Metal View: October
By Eve Oberlander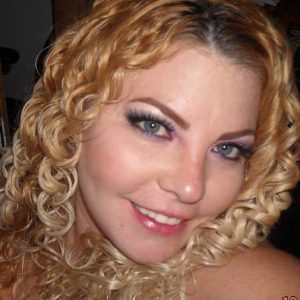 Raised here in Central Cali, I'm proud to call Modesto home and the place where I was introduced to local metal. Being a part of local metal is a huge chunk of my life. I am a fan and supporter. I have a blast with the bands, the friends that go along with it and the entertainment it brings to our local and surrounding venues. I enjoy every minute of it.
Here's what has been going on. Look for upcoming albums/EP's from your favorite Modesto Metal Bands. What I found incredible is the number of bands currently recording. With Bavmorda, Hang the Kode, Mind of a Machine, Stigmurder and Nothing But Losers, we are going to get a burst of music about to be released. We, as metal fans, wanna blast it in our homes and Bluetooth it out the windows of our cars.
Knowing each band personally I got to talking and found out some things that we should all look for real soon. Modesto's most hated Nothing But Losers is playing the Whiskey A Go Go in L.A on October 30th with Dope, Flaw and Motogrator. NBL's also opening up for horror rock legends Haunted Garage on October 14th at On The Y in Sacramento. They are currently recording their long awaited (but so wanted) debut album. I personally cannot wait.  Hop on the Death Train, full steam ahead because the mighty Stigmurder just finished up their 4th studio album titled "Struggle". Thirteen years with the same crew and they just added in a new bass player Robert Ruiz. Thru "Low end Robs" hard work and dedication he managed to write three of their newest songs, Stew, Death Sentence and Lose Some One.  Look for the CD release party early next year. Female fronted Bavmorda is set to release their "Debt To A Witch" EP sometime in early 2017, it features five songs and album art by Karl Dahmer. Bavmorda is set to play The Zombie Crawl in Reno this October as well as Modesto's The Summoning October 29th. Hang the Kode just completed their full length album called "Molotov Cocktail Party". Their songs were written together collectively and show their Crossover style. No release date as of yet. Mind of A Machine is coming out with their first six song ep, self-titled. In just one year, they have played 3 Festivals, recorded a demo and received a MAMA Award Nomination for Best Metal. Check out their music video for "Zealot" on Youtube.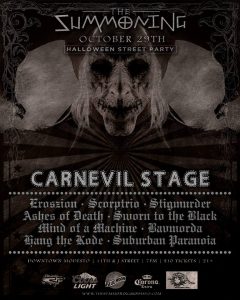 Stay tuned for a Metal Halloween. Guitar riffs and horrors collide right here in downtown Modesto this month. Modesto's largest Halloween party, The Summoning, will be held downtown on October 29th. This year's party includes multiple stages of live music, DJ's, Haunted Houses and over a dozen themed party rooms. There are not only one but two heavy metal stages this year. With The Summoning's CarnEvil Stage featuring: Eroszion, Ashes of Death, Bavmorda, Hang the Kode, Mind of a Machine, Scorptrio, Stigmurder, Suburban Paranoia and Sworn to the Black , be prepared to have your faces melted off. The Hellraiser Stage will bring you Metal and Rock bands from Sacramento to Fresno and everywhere in between. Wear a costume and enter to win 2,000 dollars in cash prizes. I'm getting excited knowing we are going to share our favorite holiday together. A lot of us MetalHead's love Halloween and The Summoning, we get to express ourselves thru the spooky and unique, the freaks and geeks, our morbid curiosity's, they obscured, and most of all our dark love for Heavy Metal. For tickets contact any of the bands listed. Have a happy Halloween and hope to see you at The Summoning.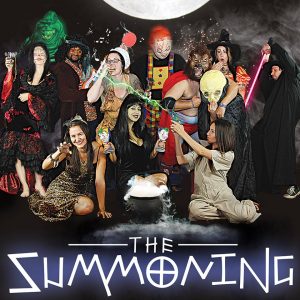 Comments
comments