The Metal Scene 2016
by Eve Oberlander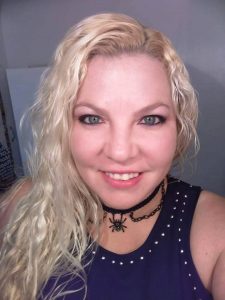 The Modesto Metal scene has seen its ups and downs this year. With mostly ups we have experienced some downs; with the passing of 17TEN's Joe Young, we all lost a part of our lives.  We have respect and love for you and your families, Joe. We will see you on the other side. 17TEN continues to strive with their band, playing shows, opening for nationals and writing new music. They have opened for The Mentors this year along with Doyle from the Misfits, John 5, Joe Buck, and M.O.D. These guys always get the party poppin'.
We lost Fat Cat this year. A fun amazing venue that brought metal bands for years….and The Workshop in Ceres. At the same time this makes our Modesto Metal scene branch out and play and visit outside cities and venues. We need more places to play Metal and have Metal acts come to Modesto from all over the states and world. We will keep Metal alive in this town. We are very fortunate to have what is OUR local metal scene. There are many talented metal musicians in this city and awesome supporters; friends, fans and family. Band members from around the state, keep telling me, "We like playing in Modesto because our towns and cities don't even have a metal scene…. then we get here and everyone's so kick ass, and supportive and having fun". No joke, I've literally heard this from many musicians and supporters alike.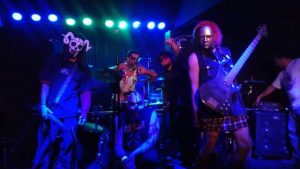 Nothing But Losers has had a stellar year living up to their 2015 Best Metal MAMA Award. They have opened for 12 national acts this year, including Death Angel, Otep, Dope, Sid Wilson from Slipknot and American Headcharge just to name a few. But most importantly is their upcoming show opening for Mushroomhead on Wednesday December 7th at The Boardwalk in Orangevale. These guys always get the crowd head banging.
Sworn To The Black took home this years Best Metal MAMA award. I've been playing their album Delusions of Existence all year long.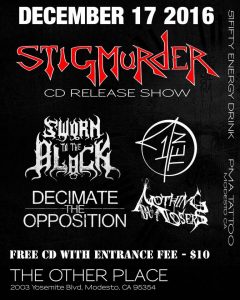 Stigmurder is releasing their new album titled Struggle, December 17th. $10 gets you in and gets you their new CD, at The Other Place. Stigmurder's sponsored by PMA Tattoo Studio in Modesto on Orangeburg.
This is just a fraction of went on this year in our Modesto Metal community. I could write a novel on our events………..Cheers to you and a New Year.
Comments
comments