MJC Great Valley Museum to hold family oriented science festival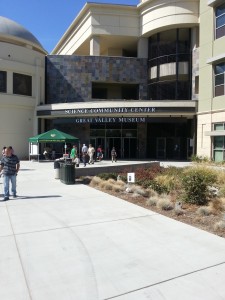 (Modesto, CA) – The Great Valley Museum is holding the 6th annual Wild Planet Day family science festival on Saturday, October 10, 10 a.m. – 3 p.m. in the Science Community Center on the Modesto Junior College West Campus, 2201 Blue Gum Avenue, Modesto.  Admission for the day is $8 per person and $20 for a family of up to six people.  Children 5 years and under are free.
This fun-filled fest will feature hands-on science activities for all ages, including squid and owl pellet dissection, making blue bird boxes, chemistry experiments, rock painting and more. The Enochs High School CSI group will lead several exciting experiences, including blood splatter techniques and zombie DNA testing. (Yes, there will be zombies!)
There will also be appearances throughout the day by "Woodsy Owl," "McGruff the Crime Dog" and "Dr. Al Chemist."  Sun telescopes will be available on the rooftop observatory, 3-D printing demonstrations will be offered, and over 50 different species of native Californian reptiles will be on display.
Planetarium star shows will be offered for an additional $5 per person, and there will also be food for sale and a variety of vendor booths provided by campus and local organizations.
The event is a fundraiser for the Great Valley Museum, a non-profit foundation dedicated to providing science and natural history information to adults and children of all ages through classes, programs and exhibits. The museum serves the families of Stanislaus, San Joaquin, and surrounding counties.
For more information on the Wild Planet Day science festival call (209) 575-6196.  Additional information on the Great Valley Museum is available online at www.mjc.edu/gvm  and at www.facebook.com/GreatValleyMuseum.
To read a review from last year, click here. 
Comments
comments
Bring on the rain, and a bottle of Wonky & Wry's Honey Braggot Ale. Loves to roast marshmallows over a fire. Enjoys the mix of cigars and whiskey.