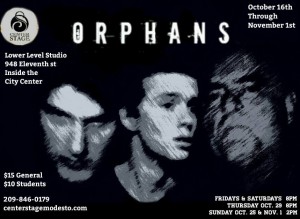 Orphans Review
By Brianna Mooney
On October 16th, I was given the opportunity to watch the opening of the play Orphans by Lyle Kessler. The show was put together by Modesto's Center Stage Conservatory and was directed by the very talented James Kusy. The theatre is black box style and very intimate, for a more personal feel. Orphans was mature audience based, and incredibly emotional. It reaches out to the viewer's inner demons, such as loneliness and abandonment. Main characters and orphaned brothers Phillip, portrayed by Forrest Lark, and Treat, portrayed by Johnathon Smith, take you on a roller coaster of emotions as they grow together after the loss of their mother and abandonment of their father at a very young age. Both young actor's performances were extraordinary and at times had me wiping tears from my eyes. The sheer emotion behind their act proved to me that they connected with the feeling of seclusion and desertion as much their characters did. Along the way, their lives become intertwined with a business man named Harold, portrayed by JD Jeans, who eventually becomes the father figure to the young men that they have been searching for their entire lives. Jeans was a perfect fit for the passionate, strong- willed character. The cast was sensational and ridiculously talented. I urge everyone to see this show while you can, these actors deserve endless recognition for their captivating performances. I would like to personally extend my gratitude to Center Stage Conservatory for their amazing hospitality, as they serve fresh food and refreshments after the show, and treat you with great respect and make their guests feel as comfortable as possible. Overall, my experience with the theatre and show, was without a doubt one of the best I've been given.
From Cetnerstagemodesto.com:
Two grown orphan brothers live in an old dilapidated row house in North Philadelphia – deserted in childhood by an unfaithful father and by the death of their mother.  Older brother, Treat, brutal and violent, provides for his younger and emotionally damaged brother Phillip, by being a petty thief and keeping him hidden from the world.  When Treat kidnaps Harold, a   mysterious business man, their lives are turned upside down.  Beautiful, moving and ultimately heart-breaking, Orphans is a play that will stay with you long after you leave the theater.  
Performances at 8pm 10/16, 10/17, 10/23, 10/24, 10/29, 10/30, 10/31 & at 2pm 10/25, 11/1
Comments
comments