The Vintage Faire Mall has partnered with HGTV to create the best Santa's Village ever!
This interactive HQ has plenty to do while you wait to take your family photos. Grab a tablet, and walk around using the scanner to see Santa's hidden elves working all over the workshop! Use the Naughty or Nice O'Meter to see if Santa is going to bring you toys or coal. The Naughty or Nice O'Meter uses the latest technology in identifying children's behavior during the whole year. Santa also gets monthly reports from your loved ones.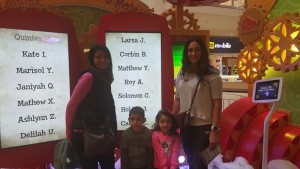 To experience this at home, simply visit www.Santa-HQ.com and download the "triggers" to see Santa's elves from the comfort of home. Or download the map so you are ready to explore when you get here! (Or you can pick up your printed map and trigger distributed by WWP at concierge.)
This is a trgger. Scan it with the tablet or your smart phone!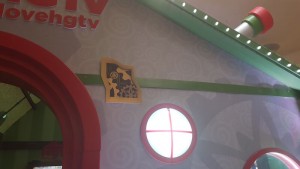 Make reservations online to skip the line. Reservations come with a discount, too!
Download the ELFIE APP and take an "Elfie Selfie" video to star in your own animated video to send and share with your family and friends!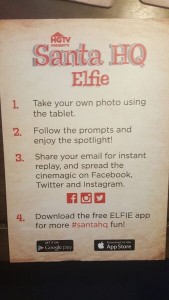 *You may use the tablets provided or download the app from the app store or google play.
The Control Center services and monitors the daily elf operation at the North Pole.  Younger attendees can interact with a "control center" with physical levers and gadgets. Play, play, play!!! Above the control panel, a large flat-screen displays work-in-progress images of Santa HQ including Santa's newest sleigh, gears, and various technical drawings that show the creative evolution of HQ.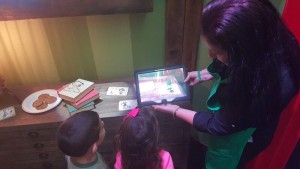 The Elf-Ray Vision experience at Santa HQ is back in 2015, and the elves are more excited than ever to kick off another holiday season with an extended experience throughout the sets.
Do you want to win a photo package with Santa? Take & post pictures on facebook, twitter or instagram of your kids using the tablets or playing in Santa HQ and tag them  #SantaHQ #ModestoView #VintageFaire to be entered! Winner choosen randomly Monday! (Must have all three tags to be entered.)
Enter To Win a seperate $10K HGTV Sweepstakes on the website!
Comments
comments
Bring on the rain, and a bottle of Wonky & Wry's Honey Braggot Ale. Loves to roast marshmallows over a fire. Enjoys the mix of cigars and whiskey.