Save the Tricks & Treats for the peeps not the pets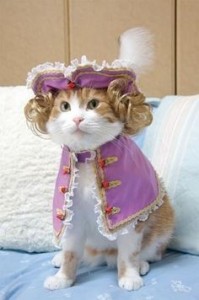 Happy Halloween! The fun starts and ends with everyone being safe this Halloween and that would include your pets too. Please be mindful not to leave any kind of candy or sugary sweets where your pets might get into them, especially chocolate. Chocolate has been known to be toxic for dogs. Also it might be a good idea to bring in your pets from the outside so that they don't get scared by any ghoulish sounds that trick or treaters might make as the approach your spooky house for treats. If your dog or cat does ingest chocolate, please seek immediate medical attention for them. Other safety Halloween tips below:
Trick or Treat in groups of 3 or more.
Remind your kids that they should never go into people's homes if they are invited in for more candy.
Bring along a flashlight so that you're visible to passing cars.
Always trick or treat in your own neighborhood.
Plan your Trick or Treat route and share it with another member of your family.
Only Trick or Treat at a homes where the porch lights are on.
Avoid wearing a mask that might impair your vision.
Inspect all your treats before eating them.
Unlike Yoda the dog here, most dogs and cats don't care to dress up for Halloween, avoid putting them in a costume if they don't care for it.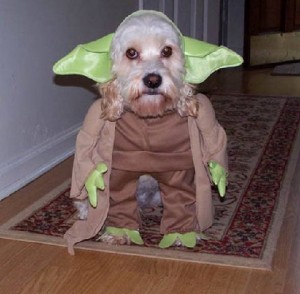 Always be kind to animals on Halloween & everyday of the year.
Efren Martinez
Comments
comments
I answered the call back in 1983; mixing Music and Entertainment with an eccentric European style has always come easy for me. In the early 80's I was the Disc Jockey for most of the high school dances in Modesto. In the late 80's I found myself in Hollywood working as a dancer and sound engineer for various professional recording industries. In 1990 my wife of 25 years and I started (The Quake Mobile DJ ®) which was seeded from San Francisco's 1985, The Quake, radio station that only lasted a short while on the air. 26 years later The Quake Mobile DJ is bigger & better than ever in the Entertainment industry. Real-Estate, photojournalism, event promoter, saving animals, travel and fitness are a few other of my interests. I also enjoy motivational speaking to children and to those who are struggling with addiction. In my life, I have always been a very direct person and once I see a goal I won't quit till I've achieved it. But out of all of the above I feel in my heart that the best inspiration in my life is my wife and my love for the faith that I practice. Phil 4:20