"The Real Monuments Men & Nazi Looted Art"

Professor Jonathan Petropoulos has spent the last 31 years studying everything surrounding the stolen artwork of WWII by Nazi leaders, including the Gurlitt find and the famous "Monuments Men".   After 8 years of dedication through sensitive creation, his most recent book "Artists Under Hitler" was just released, and I was able to attend his lecture recently at the Carnegie Center of the Arts in Turlock, CA.
Artwork was a sign of anthropology and status among the Nazis. They were symbols in the regime, and were often passed around as gifts among officers, sometimes harboring inside jokes, such as giving paintings of people drinking wine to officers known for their love of alcohol. The Nazis knew how precious their stolen, looted and otherwise confiscated artwork was, and they found incredible ways to hide it. Deep underground in dry salt mines, hopefully safe from any surface bombing, paintings were often stored by the thousands. It is common belief that the "Nero Decree Reich Armaments" put forth by Minister Albert Speer, was to destroy artwork if the war turned badly against the Nazis, but ironically Hilter had a crazy adoration and respect for art, and he never had proclaimed that artwork in any form should be destroyed. In fact, the Nazis took great pains to protect what they believed was rightfully theirs, even though they were certainly under delusions of grandeur about that. Austrian miners, who had no idea that halfway across the world a team of Americans was working to protect the artwork, decided to do what they could to keep paintings out of the hands of Nazis, and keep it from being destroyed.  The miners had created tiny bombs, and set them on the inside of the doors, where they could be set off safely to contain any art in the salt mines, away from the hands of Nazis.
The biggest two excavations of salt mines were the Altausse mine, and the Merkers mine in Russia. The Altausse mine was surrounded by Nazi leader's houses, for easy access in and out. The infamous "Hunagrian Gold Train" which transported items stolen from Hungarian Jews, emptied it's cargo at Altausse. It took 2 months (May –June 1945) to fully excavate and contained over 6,500 artifacts. The Merkers mine contained gold and other valuables, and was emptied and cataloged from April –May.
The Monuments Men (which also comprised of women) included James Rorimer, Ardelia Hall, Thomas Carhowell, Frederiscke Harte, and many others. Though given plenty of media coverage and pats on the back in the late 40's, their story faded into the background until the recent movie "The Monuments Men" directed by George Clooney, hit the big screen. Professor Petropoulos is working diligently to put the record straight, and separate fact from fiction regarding the film. The motion picture certainly seems more "real" knowing the entire story surrounding the characters, and even the lesser talked about characters…The Bad Guys!
Bad Guy #1 Kajetan Muhlmann
An Austrian Nazi and art historian, stole more artwork than any other person in our known, recorded history. He lived in Kracow after the war in a house filled with his stolen merchandise. It took years for American officers to find and arrest him, and when they finally did, he played sick to be put in confinement. He jumped from a window, and was never heard from again. We know he died is Salzburg in 1958.
Bad Guy #2 Bruno Lohse
Bruno was known as the "King of Pairs" back his hey-dey for his affection of French women and wine. He liked to hoarde the artwork higher officers refused to take, usually thinking the artwork wasn't up to par. Even with this "ugly and worthless" artwork, he ended up with 47 precious artworks in the Swiss Zurcher  Kantonal bank. With his confiscated artwork as proof, he was imprisoned for a measly five years. He spend the most time in prison of any looter.
Bad Guy #3 Ante Topic Mimara
The best  con-artist of his time. He dressed up as a Monument Man, went into the Central Collection Point in Munich with his counterfeit list of artwork, and was able to walk away with everything on his list. At his death, the paintings he had were donated to the Zaga Museum in Croatia.
Bad Guy #4, and the one you probably all know:
Cornelius Gurlitt
The biggest collection we've found recently was the Gurlitt Collection. Cornelius' father, Hildebrand Gurlitt, had purchased over 500 million dollars' worth of confiscated paintings (usually in French liquidations of Jewish possessions). Cornelius had Austrian citizenship and lived in Munich. He was intercepted accidently on a train headed home with 900,000 franks on his person. Curious as to why he would carry so much money, he was questioned, and he told the police he was an "art dealer". We (Americans) came up short in our work: we believed his lies that he had purchased & sold his art legitimately, and let him go.  Discovering our error later, we raided his condominium intending to find money and found millions of dollars of art instead.
During Q & A, my favorite question was:
Q: The Nazi's were great record keepers. Why didn't they keep records of all these artifacts and artwork?
A: They actually did! There was 35 million pages of records relevant to my work. Not all of it was helpful, but there was certainly a lot. They didn't tend to keep very good records of smaller items such as family photos or heirlooms. Near the end of the war, documents and reports were also being shredded to destroy evidence. Another issue was that it was common to find counterfeit paper trails, as a way to hide evidence.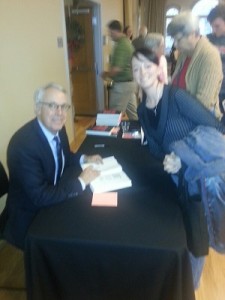 Thanks for the great talk, Professor Petropoulos!  He is also the author of an additional three books, He Art as Politics in the Third Reich, The Faustian Bargain, and Royals and the Reich. For more information, visit his site: http://www.cmc.edu/academic/faculty/profile.php?Fac=229
For more info on the Carnegie Arts Center visit www.carnegieartsturlock.org.
250 N Broadway Ave, Turlock, CA 95380
(209) 632-5761
Comments
comments
Bring on the rain, and a bottle of Wonky & Wry's Honey Braggot Ale. Loves to roast marshmallows over a fire. Enjoys the mix of cigars and whiskey.