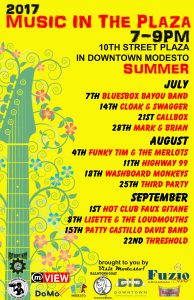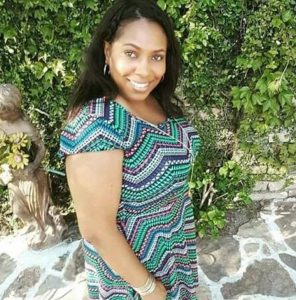 "Top 5" Music in The Plaza
By Tasha Williams
I love Modesto! We have beautiful weather, we respect and celebrate the diverse cultures who reside here, and no matter where you go in our city, laughter is heard and you can always find a smiling face!
Modesto carries a true sense of happiness! We know our neighbors, we value our families and our friendships. Plus, we support each other when we can. This is the beauty of Modesto, California and my heart is all in!
Some may disagree with my overall opinion of Modesto and if that is the case, I challenge you to take the opportunity, step out this weekend, and experience a little taste of Modesto for yourself!
Every Friday night from 7 – 9 pm, MUSIC IN THE PLAZA takes place! Located in front of the Brenden Theater, at the 10th Street Plaza, this fun-filled family event will happen every Friday night, all the way up until September 22, 2017.
In honor of this event, I had to supply you with yet another "Top 5" List! Here are, in my opinion, the "Top 5" reasons why you should attend Music in The Plaza one of these upcoming Friday nights:
IT'S FREE: No explanation necessary. You can just smile!
LIVE MUSIC: Music makes the people come together, yeah! I so badly want to take credit for that line, but I can't – because it's Madonna's. Still, that lyric rings true! You can come together with friends and family in good fun! I suggest you bring a chair though. After all that dancing, you will want to sit and catch your breath from time to time!
THE RESTAURANTS: The Plaza has great restaurants! There are many places to eat, but here are a couple of my favorites. Try dinner at Fuzio www.fuzio.com or have a mouth-watering strawberry funnel cake at T-Cups Café www.t-cupscafe.com.
COMMUNITY: – Modesto is not only filled with happiness, we have a strong sense of community here! When I attended the event, it was heartwarming to see how many people came out to enjoy themselves!
IT'S AGELESS: – Another beautiful thing about Music in The Plaza, is that it is simply ageless! By that I mean, you will see children as young as two and adults over the age of 80 dancing to the music being performed live.
I love Modesto! I love it for the appreciation we have for our diverse cultures within this community. I love that we enjoy and engage in friendly conversations with strangers – at any given moment. Most of all, I love Modesto because we really love each other as human beings. Modesto is really great that way!
Go check out Music in The Plaza before it ends in September! After a long work week, you deserve to treat yourself! For more information: Music in the Plaza. As always:
Let's love our Modesto!
Let's embrace our Modesto!
Let's continue to spread our smiles in Modesto!
C'mon Positive Peeps – IT'S WHERE WE LIVE!
Catch these great acts over the next couple months.
07/21 Callbox
07/28 Mark & Brian
08/04 FunkyTim & the Merlots
08/11 Highway 99 Band
08/18 Washboard Monkeys
08/25 Third Party Band
09/01 Hot Club Faux Gitane
09/08 Lisette and the Loudmouths
09/15 Patty Castillo Davis Music
09/22 Threshold
Comments
comments
ModestoView features contributors from our community on a regular basis. We enjoy and welcome these honorary ViewCrew members. If you would like to message them, email to info@modestoview.com