Leadership Modesto is proud to announce Camp Erin® Modesto the beneficiary of funds raised by UNVEILED 2015.
UNVEILED 2015, presented by the Modesto Chamber of Commerce's Leadership Modesto Class of 2015, held the 6th annual fashion show fundraiser sponsored by Lexus Thursday, January 29, 2015 at DC Air Hangar 6.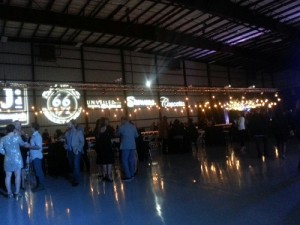 From the moment you drive in and park your car, you feel the prestige of this show. You are ushered to the entrance by men in uniform, checked in by classy women with clipboards in shimmery dresses. Your first step inside lands on you a red carpet, and lights above serenade you with majestic ambiance. Mashed-up smooth electronica tickles your ears, you blink several times while your eyes adjust to hundreds of twinkling lights, and only the cool crisp air reminds you that you are still in an airplane hanger.
It was almost like being in a movie. Surrounded by fancy people, fancy clothes and fancy parked Lexus' for you to sit in and feel fancy yourself.
Of course the part you don't see in movies are the lines at the bar, the chit-chat of minglers at food tables, and patrons struggling to find their seats in the twilight.
A Strawberry Shortcake Cold House Vodka drink was magically prepared for me. I sipped it while I watched and waited for the show to begin.
I appreciated the DJ's remix of Mad World by Gary Jules, Sail by Awolnation and Ghostwriter by RJD2 paired with pumped up rave music. My mind felt relaxed knowing these songs, but my body was overriding the comfort of lyrics I knew, compelling me to bob my head and tap my foot to the crazy new beats.
Finally, the show begins! There is clapping, ooohing and awwwwing, while models caper down the isle to show off their artistically matched outfits before posing for one more half-second and ducking back stage for a wardrobe change. The runway was definitely straight from a film: It is fast-paced, it is intense, and the adoration of the audience is palpable.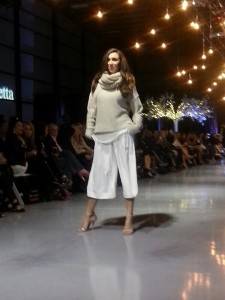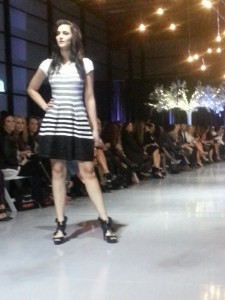 The many boutiques, salons and Mira Bridal showed off their best wares, for men and women, from head to toe. Residents all over Stanislaus County were making their wish-lists of must-have ensembles from workwear, evening gowns, casual affairs, swimsuits and black-tie.  The fashion shops are ready for you to stop by and make your selections, so you can make heads turn and ask, "Where did you get that jacket?!"
Here's to another great year of fashion passion here in the Central Valley!
——
UNVEILED is the area's only high-end fashion experience. From its beginnings in the Mistlin Gallery in Downtown Modesto to its expansion in 2012 to the DC Hangar 6, UNVEILED has always been an evening of elegant fashion, great local business participation and fantastic community support. UNVEILED continues to sell out to an audience of 400 community members. In the past UNVEILED has donated a portion of the proceeds to several local charities, including Project Uplift and Without Permission in Modesto. "We are excited to partner with Camp Erin Modesto to raise money and awareness for the foundation," said Mira Jantz, member of Leadership Modesto and co-chair for UNVEILED 2015. "Camp Erin provides a unique opportunity for grieving children and teens to bond with peers who are facing similar circumstances. Making a difference in a child's life will make a difference in their future, and we are proud to be a part of that and contribute to Camp Erin."
Created and supported by the Moyer Foundation, Camp Erin is the largest network of free bereavement camps in the country designed for children and teens ages 6-17 who have experienced the death of someone close to them. The Moyer Foundation partners with healthcare and bereavement organizations in local communities to help fund, develop and grow Camp Erin nationwide.
Special thanks to sponsors of UNVEILED 2015:
Lexus, Dust Bowl Brewing Company, Barefoot Wine & Bubbly, Concetta, Skewer's, Green's, Bauer's, Frost Bakery, The Boutique at Salon Salon, Bonnie J,  La Pink Boutique, Rossini's Fine Menswear, Vela Bianca, Mira Bridal Couture, Envy Fine Clothing, Streaks Salon, Antoinette Karlegan, JCD Studios, Sounds in Motion and Gabi Holzwarth.
Comments
comments
Bring on the rain, and a bottle of Wonky & Wry's Honey Braggot Ale. Loves to roast marshmallows over a fire. Enjoys the mix of cigars and whiskey.