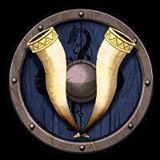 When I find something I love, it's hard to be quiet about it. In the spirit of Shop Local November and Small Business Saturday, I wanted to introduce you to one of my favorite small and local companies.
If you love mead, look no further than Valhalla. Founded by father and son, Robert & Alex Eltringham, they are on the cusp of becoming the next great thing Modesto's produced.
About six years ago, Robert became really passionate about brewing mead. Before long, as many of us desire when we discover what we are passionate about, he wanted to make brewing his career. After the unfortunate closure in 2011 of Modesto Junior College's Communications, Journalism and Theatre program, Alex made the decision of joining the crusade and brought a new perspective to the table. Several friends joined the venture and it became a business. A "framily" business; an environment where everyone is looked after and cared for, and all opinions and ideas are considered.
They have year-round favorites such as "Olde Babylon", the original that started it all, and seasonal drafts such as "Hearth Fire" a dry pumpkin spice. They decided to enter their mead this year in competitions at the Stanislaus County Faire, where it came in first and second place as well as "Best In Show", and the California State Fair, where it won second place.
Their line of hand-brewed mead has expanded to include 16 different tummy-warming flavors such as "Freya's Tears" (strawberry cardamom) and "Dark Grove" (chocolate orange) and are now at your disposal for a donation of $15 or more. What are your donations going to? A warehouse. Where they can brew their award-winning mead in mass quantities, and provide better pay and benefits to their crew. They are as passionate about caring for their team as they are brewing their newest concoctions.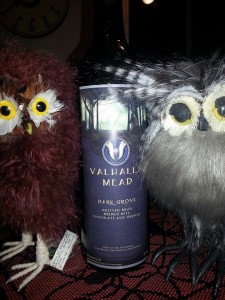 My owls Minerva & Neptune, with a bottle of Dark Grove.
Halloween night, after being obsessed with Valhalla for quite some time, I was invited to an open house to taste some "Olde Babylon" before it is bottled, and to eat some delicious chicken marinated in "Dragon's Breath" (habanero mead). Not only was the food incredibly nom-worthy, it was awesome to get to know some of the other members, and hear what they love about Valhalla. It sounds like the most fun they have isn't bottling & corking, but coming up with new flavors and names. There are 6o+ Norse gods, which means we hope there will be 60+ flavors one day in the Valhalla line. You haven't lived until you've had a bottle of this mead. Robert and Alex are flavor badazz masterminds. It doesn't matter WHAT kind of mead you like, they've got something for everyone! Even non-alcoholic "pillage juice" for all the designated drivers out there. Because hey, everyone needs to pillage responsibly!
From the Valhalla Meadery to you: PILLAGE RESPONSIBLY!
For more information or to donate & pick a bottle, visit them on facebook: https://www.facebook.com/valhallameadery
They are also having another open house in December, so be sure to stalk their facebook for the specifics!

The Valhalla Mead Crew
Comments
comments
Bring on the rain, and a bottle of Wonky & Wry's Honey Braggot Ale. Loves to roast marshmallows over a fire. Enjoys the mix of cigars and whiskey.