What will be the newest and hottest thing in Local Metal this year?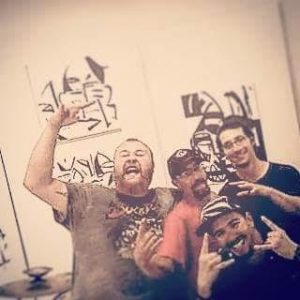 A new year means new beginnings. Will it be a breakthrough band? Will it be a local super group? Will we get that Metalfest we've always wanted? How about a new venue? What do you hope to see in our Metal community? I would love to see a flood of Local Metal. Keeping our spirits up and keeping our scene strong and moving forward.  I'm excited for us. Anything can happen in the New Year.
Let's talk Nationals.  Wouldn't it be cool to get a huge famous rock metal band to play here in Modesto? A band that we could all sell tickets for. If someone huge played here I have no doubt we could sell it out.  Our metal scene is very fun, supportive, and I strongly encourage you to get out there. If you are at home and playing your metal, practicing out of the garage, come on out. We will get you on some shows and join in on the fun. Or attend a local metal show. Come up and say Hi. See what we are all about. We will welcome you with horns up.
Hpmk, Horror Porn Machete Koks, a newer band onto the scene, these dudes formed in early spring of 2014 and had their very first show at the Workshop in Ceres. We've seen a lot more of them recently this past year. With Dustin Kelley now on Vocals, Guitarist Kyle Oldham, Bassist Chris Velasquez and Michael Potter on Drums, they bring you metal and old school punk.  The band is their therapy and helps them get through "the day to day drag". I'd like to recognize and give a shot out to Michael Potter, the drummer of this band. Potter as we call Him has just recently put on a coat and blanket drive to help with the needy in our city of Modesto. He runs sound at a lot of our local metal shows and is just an all-around good person who lends a helping hand wherever he can. He's happy to help out bands with missing members and always volunteers his time to the metal community. Hpmk's Dustin says the scene has definitely taken them in with open arms, they have big hope for the future.
A huge thing we all want to see this New Year is our friend, guitarist and vocalist Abraham Guerrero, come home. He's been in a San Francisco hospital for some time now and we are rooting for a complete recovery. He plays in a band called Brutal Innocence out of Los Banos. He is well loved in our local metal community. We shall celebrate and throw him a metal show with his favorite Modesto bands when he comes home.
We have a local metal show this month. It's Dave Bell, Bassist from Nothing But Loser's 32nd Birthday. The party's on Saturday January 14th at The Spinnaker Lounge. Bands to be performing are Nothing But Losers, Sworn To The Black, Stigmurder and Perfect Nightmare. The special feature entertainment for the evening will be a local all-star lineup playing a Korn Tribute. A.D.I.D.A.S.
Hailz and Hornz to a Happy New Year!
Comments
comments