Celebrating the Good Old Days                                                          (Part 1)
by Mary Layton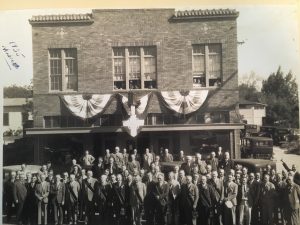 I like to introduce you to a place in Modesto that I have grown to love very much. As a matter of fact, it was love at first sight when I came upon it for the first time in 1999, on the eve of Y2K
when the world was supposed to end. This place has that certain something that makes you feel you could be anywhere in the world. It's got the smell of wood and shellac, the smell of history and stories. So much character and atmosphere. Gives you a special feeling. And so it is that I have looked into its past. We are talking about a place in downtown Modesto, on the corner of 5th and I Street, right off the freeway. It is a place where families celebrated Christmas and enjoyed good food and drinks all year round. This place is called Dania Hall, a name given by the Danish Club who used the hall for cultural events. The Hall was built in the early 1900's and all the members of the Danish Club (150 members) helped to build it, from scratch, including beautiful furniture, some built in. It's a nice brick building with large windows in the front. It used to have a mural of a cowboy swinging a whip at the side of the building facing the freeway. Starting in the 30ties the Danish Club rented the hall to its Club members on the weekends for dances and meetings. In the basement was 'The Orchid', a restaurant with long tables and benches and a large industrial kitchen. In the corner of the building was an independently owned business, a formidable saloon, 'The Whip'. It was the happening place in the 50's where people would go for a drink. Later, due to a drop in membership the building could not support itself and stood empty until the present owner purchased it, about 20 years ago.
There had been many plans for the building as I found out from the owner. It was to be the Shirley Temple Museum of Dolls. But plans changed and the dolls found a home in Stanford.
Dania Hall was also used for Music recitals. For almost 20 years Dania Hall has been a place for Martial Arts, teaching Kung Fu, Thai Boxing and T'ai Chi.
To be continued in Part 2 in Dec.
For more info go to :  taichi4modesto.com
Comments
comments
Mary Layton has practiced T'ai Chi for 35 years and co-founded T'ai Chi Ch'uan Academy of Modesto in1995. She and her partner have taught hundreds of students. Mary travels frequently to learn from her teacher Grand Master Kai Ying Tung. Interested in every aspect of health Mary likes to follow a natural path. She loves writing, painting, gardening, hiking and playing piano.