BrewView
By Brandilyn Brown & Christopher Mitchell
Take a Beercation at 10East Kitchen & Taphouse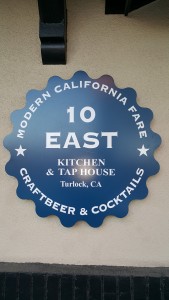 With hubbub always happening in downtown Modesto, it's easy to forget Turlock has a great little strip of it's own, too! In a city not even a hop away (pun!) you can experience quite an array of beers accompanied with great food. 10East is the perfect spot to turn your spring break staycation into a beercation!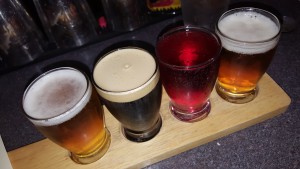 Co-Owner and craft beer enthusiast Derek Walker took our tastebuds on a journey from Europe, to Southeast Asia and back again with so many stops along the way. With 30 beers on tap rotated frequently and even more options in bottles, you will want to return often so you don't miss out on the chance to try new, unique selections.
Their beverage menu has something for everyone. Yes, they are gurus in craft beer, but they also have unique cocktails (try the George Carlin!) as well as a great wine list. After trying the Indigeny Blackberry Cider, it was an immediate favorite. It wasn't dry like ciders tend to be. It was very smooth and perfectly juicy! Give it a try with a shot of Jameson to celebrate St. Patrick's Day.
Along our beercation, we asked Derek some questions.
MV: Why Turlock?
DW: We knew that downtown Turlock would be a perfect fit for our concept. Dust Bowl's success, only 1 block away from our location, helped open the door for true fans of craft beer in our community. We thought that had created a solid platform of which we could help build upon. Even 3 years ago when we opened our doors, craft locations in our region were few and far between, so it was really cool to have two great places within walking distance of one another downtown.  We have a great partnership down here that has become a destination for a lot of regional craft beer fans.
MV: What got you into craft beer?
DW: I know it sounds cliché, but it was a beer called "Pliny the Elder". Up to that point I never cared for IPAs. That turned out to be a beneficial problem because, ironically, it is impossible to find Pliny anywhere near Turlock. I thought, "There must be something I could find locally that would compare."  I started drinking every IPA I could get my hands on trying to chase that dragon. My palate developed from there and it opened up an entire new world of beer for me. In a way, I think I try to put a lot of that experience into what I provide on my tap lists. I get excited when guests try something for the first time and it blows their mind. Especially seasoned craft beer aficionados. If you can impress them, you know you're providing something very special. I always tell them, "Every time you walk in that door it should feel like Christmas because there's something special on the menu you've never tried, or have only heard about. If that isn't the case, then I'm not doing my job." And I truly mean that. Last year alone we drove over 10,000 miles to pick up beer from breweries that don't have regional distribution. Literally the only place you could get those beers would be to come to our taproom and enjoy them. Breweries like Societe, Beachwood BBQ, Double Mountain, Breakside, Crux Fermentation Project, just to name a few. It's worth every single mile.
MV: And why not pair good craft beer with food!
DW: That was the most important aspect to us. When you walk into our restaurant and look at the menu, you don't see a lot of standard fare you would find at similar locations. We almost want you to feel a bit out of your comfort zone by ordering something you've never tried before. Technically, we are a "Gastropub", but I think we take it a bit further than that. Our main goal has always been to provide originality in all aspects of what we do, and I think our menu is our crowning achievement. We travel to a lot of large metro areas across the country that are at the forefront of the culinary industry in order to develop our menus. We try a lot of new things and think to ourselves, how do we bring this back to Turlock and effectively re-create it. A few of those dishes we currently have on the menu are our Shrimp & Grits, Mojo Chicken, and Duck Poutine (Brandi's note: we didn't try the duck.) What's great is that we can provide all of these dishes for our guests without them breaking the bank to eat here. Since day one, we wanted to be sure that we were a place you could afford to go to a couple times a week instead of just a "Special Occasion" restaurant.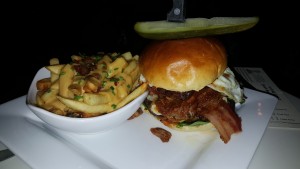 Total Pig Burger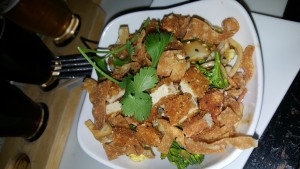 Thai vegan dish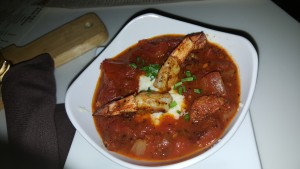 Shrimp & Grits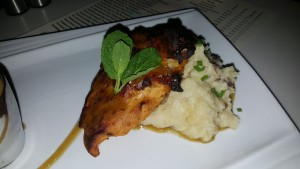 Mojo Chicken
MV: Beatles or Stones?
DW: Stones!
What did we try aside from the mojito chicken and the shrimp & grits? The Total Pig burger, the wood fired Thai Chicken Pizza on gluten-free crust, chicken and waffles with Crystal hot sauce and maple syrup, and fries drenched in a Habanero Sculpin IPA cheese sauce. Vegan friends: they have a delightful Thai dish made with Gardien, which is a soy chicken substitute that had Mr. Mitchell fooled that it was actually chicken! We loved everything we tried! Of the 12 beers we sampled, the Rip Current smoked dopplebock "Delaminator" and the Societe Brewing Co IPA "The Apprentice" were our favorites. The bartenders, who are all Cicerone Beer Servers (it's like a wine sommelier, but for beer!), are all perfectly trained to take you on a beercation too, so come find your new favorite beer, and share it with us!
Comments
comments
Bring on the rain, and a bottle of Wonky & Wry's Honey Braggot Ale. Loves to roast marshmallows over a fire. Enjoys the mix of cigars and whiskey.