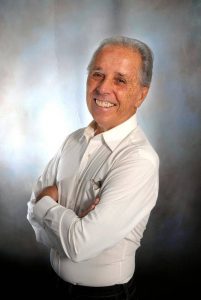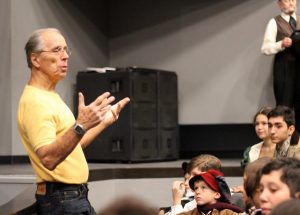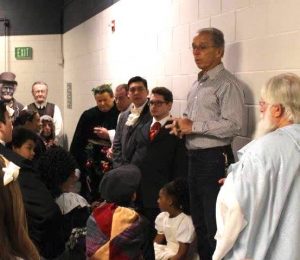 InterView: Paul Tischer and the MPA 50th
By Chris Murphy
"Paul Tischer" and "performing arts" are synonymous.
From the annual performances of the Nutcracker, high school shows, to the elaborate stagings of the Modesto Performing Arts, to roles both on stage and off, Paul has been one of the guiding talents in a community that has launched very successful stars. Having people that give their all to bringing talent to the stage is key to Modesto's success.
Paul graduated from San Francisco State in 1966 and has been teaching for Modesto City Schools since then.
Performing arts has been his life and to celebrate his dedication, the theater at Modesto High is named the "Paul Tischer Auditorium". Let me introduce you to Paul.
Paul Tischer: I was born and raised in San Francisco – born nine days before Pearl Harbor, so I had a rather ominous beginning. I loved SF. It was a great city to grow up in. I still think SF is one of the most beautiful cities in the country. The arts, plays, the opera, the ballet, and the symphony are fantastic. I still go to the city frequently for the arts.
ModestoView: When did your love of the theatre and the performing arts begin?
PT: All of my schooling was in San Francisco.  As far back as I can remember, I was always interested in the theatre.  As a young child I was always making up my own theater productions and doing them for the local neighborhood kids.  Some people have to choose their life's work.  Not me.  The theatre chose me.  I attended Aptos Junior High School (where Carol Channing also attended before me). I did junior high school plays and then went on to high school at Abraham Lincoln High School, which I actually sneaked into as it was out of my district. What is notable here is that the theater at Lincoln High was almost identical to the Modesto High School Auditorium!  They were both built at the same time so I'm guessing they more or less used the same plans. I graduated from Lincoln High where the ceremony took place on the stage at the San Francisco Opera House. I was elated.  I missed the deadline in applying for college, so I spent a year working at a department store in downtown San Francisco.  It retrospect that was one of the best things ever to happen to me. I applied to San Francisco State College and became a Freshman the following year and due to my father's disability, I had to work and pay my own way through college. I, of course, majored in drama.  I loved it!
Five years later I got my teaching credential and was ready to teach drama, but I spent all summer interviewing and trying to get a job with no luck.  Everyone wanted a Drama/English teacher, which I did not have because my minor was in industrial art woodshop. (If you're going to do high school plays, I figured, you really ought to know how to built sets.)  In the long run, the minor turned out to be a very smart decision.  As the fall approached I decided to look one more time. Of the hundreds of applications that had been there earlier in the summer, there was only one left.  My heart leapt.  A school district was looking for a woodshop teacher in Modesto. (Where is that?!) Next day I got on a Greyhound bus (you don't own a car in SF!) headed for Modesto, wherever it is. Oh please, let Modesto be in California! I arrived in Modesto, did the interview, and got the job.  Whew! Three days later I started teaching.
MV: What was the very first theatre production that you produced?
PT: In the spring of 1966 I took over the drama department and did my very first musical ever, My Fair Lady.
MV: How did Modesto Performing Arts come to be?
PT: In 1968 a number of my students wanted to know if we could do a summer production.  The result was the Modesto Youth Theatre production of The Boy Friend as part of the Modesto City Schools summer school program that was to be a one-time show. It was so successful that we did a second, third and fourth year, and the rest is history.
Prop. 13 ended summer school funding so we incorporated as Modesto Performing Arts at first limited to high school students, later we included college students, and later adults and everyone.  Today we even include professional performers from New York and Los Angeles.  At 50 years we are one of the oldest community theatres in California.  We continue to do the Broadway musicals, but we also do children's plays and nonmusical plays, such as A Christmas Carol.
MV: If you could go back and redo the last 50 years, what would that be?
PT: I'm still amazed that what was a childhood impossible dream came true.  I reached for the stars – and it happened!  For me, there truly is no business like show business.  I love it!  There is absolutely nothing I would change.  Although my dream of having our own theatre is still on my wish list.
MV: What was one of your most memorable productions?
PT: In 1976, we decided we would write our own show to celebrate the bicentennial. It would contain highlights and big moments in American history, starting with 1776 to the present, every scene would take place on July 4th, thus the title, The Grand and Glorious Fourth.  There was no end to the spectacle on stage and a cast of a hundred. It was a big hit with audiences.
MV: It takes a village to make theatre productions come to life; how have the MPA team members inspired you over the decades?
PT: In all those years, I have been blessed with the most dedicated and talented musicians and production staff: my scenic designers, lighting designers and costume designers and all the back stage people who move all the big sets around for each scene change.  Doing theatre is truly a team effort without whom the show would not go on.
MV: Do you have anything that you are particularly excited about in the upcoming season?
PT: This summer we will be performing Oliver! and Billy Elliot, the musical. Oliver! has always been a favorite of mine.  This is the fifth time I've done the show so I have it down pat.  But it's Billy Elliot, the musical, that I'm particularly excited about.  As with all musicals, you must secure the rights from New York and pay the royalty fee.  Unfortunately, most newer shows on Broadway aren't often available.  So I was greatly surprised when we got the rights to Billy Elliot.  It's an amazing Tony winning musical about a boy who wants to pursue the dancing but everyone conspires against him.  It's a great show.  There are ten dance numbers, from ballet to tap – nearly all danced by Billy.  Some are simple and easy.  Others are spectacular!  We were lucky to get Rene Daveluy of Central West Ballet to choreograph the dance numbers.  This is one show I'm really looking forward to!
MV: What can our readers expect at this gala performance?
PT: As for the 50th Gala on April 22: we have over one hundred and fifty of our alumni performers coming back to perform at the Gallo Center for the Arts. They'll perform the songs they did in their original productions.  Plus, there are some numbers with the entire cast on stage – all 150 plus.  We're even reviving a couple of the dance numbers from 42nd Street and A Chorus Line.  In addition, we'll be showing photos of many of our past productions.  Some going back almost 50 years.  A reception in the lobby will follow
MV: How can more people get involved in the performing arts?
PT: We are always looking for new talent.  To perform in our shows, one needs to audition, just like on Broadway.  Want to work backstage?  Just come and see us and we'll get you on board.
MV: Our signature Question.  Beatles or Stones?
PT: I grew up in the 60's – so it has to be the Beatles!
Thank you to the Modesto Bee for the use of the portrait of Paul Tischer
Comments
comments
Chris Murphy is the President and CEO of Sierra Pacific Warehouse Group and Publisher and Founder of ModestoView Inc. Chris worked globally in the cycling industry returning to Modesto in 1996. He is also the founder of the Modesto Historic Graffiti Cruise Route, Legends of the Cruise Walk of Fame, Modesto Rockin' Holiday, the Modesto Music History Organization and co-founder of the Modesto Area Music Association. Chris is married to his artist wife Rebecca since 1985 and has two daughters Madison and Abigail, both graduating from Modesto High and UC Berkeley. He is lead singer and guitarist for his band, Third Party that donates their performances to non-profits.