Go Modesto 4th Of July Parade 139 Years of Modestocana. Nearly 20,000 M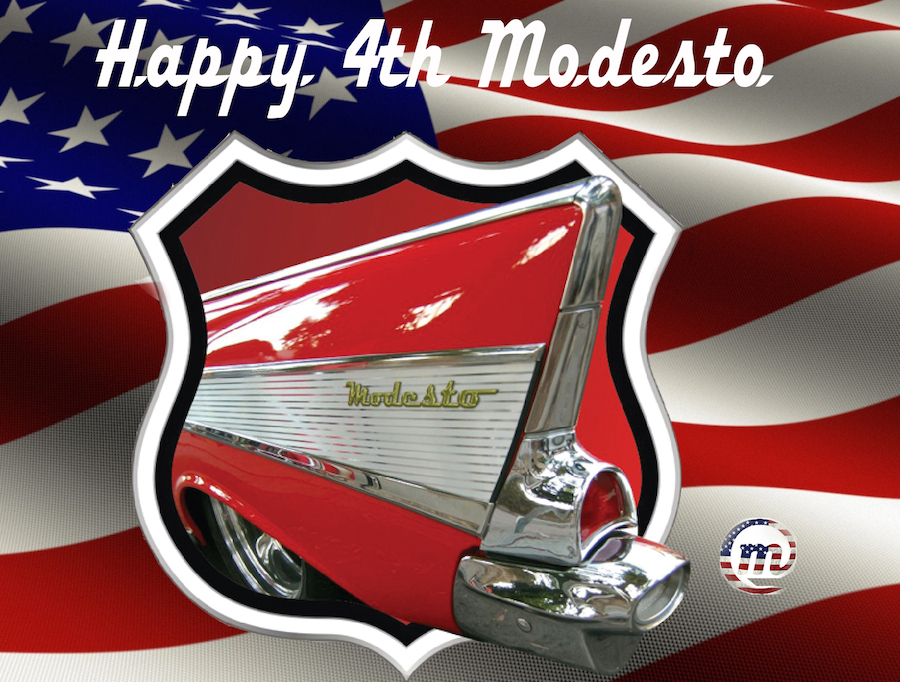 odestans will line the streets of downtown Modesto beginning at 9:30 am on the 4th of July. Over 100 entries will celebrate all of the good things in town with marching bands form all the high schools, equestrians, cub and boy scouts and every one you want to see. Be there in downtown to celebrate the independence of the USA. ModestoView publisher Chris Murphy will MC the parade along with KFIV 1360 Dave Bowman and will celebrate each and every entry and home made float. This is such a fun event. Get more info here: www.modestojulyparade.com
July 4th Events
MoBand 4th of July show is July 3 at 8 pm at Graceada Park 7-10 music at 8
Lighted Red White and Blue Bike parade –July 3  Graceada Park 7:30 pm
July 3 – Modesto Nuts Independence Day Post Game Fireworks
4th of July Parade is July 4th – 9:30 am – Downtown Modesto 9:30 to noon
Fireworks – Red White & Boom – Stanislaus County Fairgrounds – 5:30 pm FREE
Americana at the Mansion
Celebrate the 4th of July at the McHenry Mansion, decorated in patriotic fashion! Mansion hours will be from 9am to 12:30pm before the annual parade and for a short time after the parade ends. There will be a food booth with hot dogs and a drink available to buy as well as the Mansion Gift Store with many items to choose from. The Mansion is located at the corner of 15th and I Streets, Modesto, CA.
Turlock
4th Of July The Turlock Chamber and TurlockDowntown Assoc presents the 4th of July Independence Day Parade & Street Fair and with the Stanislaus County Fair the Red, White & BOOM Fireworks display. Parade: 10 am – Main St Street Fair: 11:00 am – 3:00 pm – Central Park Car Show and Concerts: 11:00 am – 3:00 pm – Central Park down Main St. Fireworks: 7:30 pm – Stanislaus County Fairgrounds at 7:30 pm and fireworks to start after sunset.
Ripon
There will be fireworks at the Mistlin Sports Complex the night of the 4th.
Get your red white and blue on and celebrate with your Modesto friends.
Check www.modestoview.com for more events as they are announced. Follow us on twitter at www.twitter.com/modestoview and on Facebook www.facebook.com/modestoview to stay in the loop about things happening in town.
Comments
comments
Chris's bio information.