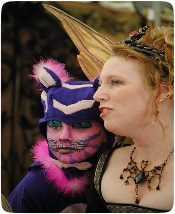 The Original 8th Annual All Hallows Fantasy Faire returns to the Mother Lode Fairgrounds in Sonora, California on Oct. 22 & 23, 2016. This year's theme is a celebration of Ancient New Year Traditions of the Celts and Vikings. The event will bring historical cultures alive with costume characters and non-stop entertainment. 
The festival will also have the ever-popular Burning of the Harvestman and fire show in celebration of the Celtic New Year.
The Fantasy Faire is a two-day all inclusive costume play event! Patrons are encouraged to wear their favorite costumes and immerse themselves into our themed encampment realms. The encampments will be filled with Celts, Vikings, Ancient Warriors, Pirates, Vampires, Victorian Steampunk, Fairytales, Mythical Creatures, Gypsies, Witches, Fire Breathing Dragon and more.  It all started in Sonora!!
Music is always one of the favorites at the faire and this year will be crazy & eclectic! Tragically White, Sacramento's No#1 party band, will headline this year's event with awesome dance favorites from the 80s & 90s. Also new to the stage will be the Vintage Vandals, bringing in some wild & crazy Rockabilly music. Sonora's Black Irish Band will be making an appearance at the faire while celebrating their 28th birthday! The faire will also be featuring traditional Scottish Highland Bagpipers, belly-dancers, and gypsy drummers, ready to get everyone into the spirit of the Celtic New Year!
When:
Saturday, Oct, 22nd- 12pm – 11pm
Sunday, Oct, 23rd- 11am – 6pm
Where:
Mother Lode Fairgrounds, 220 Southgate Drive, Sonora California, 95370
 How Much:
Saturday: Adult presale $14/ gate $18 * 
Sunday: Adult presale $12/ gate $15 
Saturday: Senior, Military, Youth (13-17yrs.) presale $12/ gate $15
Sunday: Senior, Military, Youth (13-17yrs.) presale $10/gate $12
Saturday & Sunday: Child presale $5/ gate $7 
To buy tickets on-line go to- www.allhallowsfaire.com * 
Comments
comments
Bring on the rain, and a bottle of Wonky & Wry's Honey Braggot Ale. Loves to roast marshmallows over a fire. Enjoys the mix of cigars and whiskey.