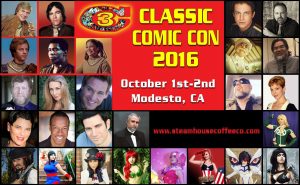 Over the last few years, the amount of Pop Culture and Comic Conventions have grown exponentially with the popularity of DC and Marvel Movies and the return of Star Wars to the Theaters. On October 1st and 2nd at the Season Events Center on Mc Henry, there will be yet another one Classic Comic Con.
Classic Comic Con celebrates the history of Science Fiction and Comics with a strong dose of Steam Punk. Meet Celebrity special guests, including several cast members from Battlestar Galactica, Power Rangers. Add to this local and regional Cosplayers and fan clubs.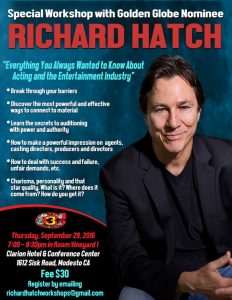 Speaking of the #BattlestarGalactica reunion panel, be sure to send in your #BSG related questions if you can't make it to Modesto, CA for the convention. We'll try to pick a few to have answered during the panel by our distinguished guests. Email your question(s) to bsgreunionpanel@gmail.com.
Enjoy two days of family-friendly entertainment. There will also be a costume contest with prizes, film festival, car show, autographs, panels, workshops, vendors, collectibles, comics, artisan crafts, music(The Dramatics will be performing), live entertainment and much more!
Affordable day ($15) and weekend ($25) kids under 14 free with a paid adult.
Comments
comments
Middagh Goodwin LIVES Music. He has been booking and promoting Music, Art and Comedy for years in the Central Valley. He ran the award winning Plea for Peace Center in Stockton for 5 Years and has booked bands from A-Z. Middagh is beginning 2016 with a new position at the Gallo Center for the Arts and celebrating Beat Happy! Music's 30th Anniversary. Read the MAMAView every month and a the Needle Drop 52 Records 52 Weeks.