Billy Idol & The Christening
by Efren Martinez
While my wife and I enjoyed being extras arrested by The Hot August Night's police for a TV show on the Velocity Network, Billy Idol was backstage getting ready to christen The Grand Sierra Resort's newly renovated Grand Ballroom. Prior to the concert I and the rest of the media were escorted in and given a preview of what Billy Idol fans were about to walk into. The casino resort spent roughly 10 million dollars on the renovation and it's beautiful. As we were led to the media photo-pit, I couldn't help to let my mind wonder how many artists have actually performed there back in the days seated at rounded dinner/cocktail booths that filled The Grand Ballroom. Today it's filled with comfy cozy theater seats and a huge general admission area right up against the stage. Getting back to Billy's Christening, yes Billy Idol's performance was the first in a long list of amazing artists that are schedule to perform there this year after the renovation. Idol being the first, I asked the very helpful and friendly staff on who was the actual first entertainer to perform in this theater when it and the casino opened up as The MGM Grand in Reno. The answer came with a knowledgably and very cool history lesson. The story goes like this:
The property was originally built as an MGM property and when the theatre opened in 1978 Kirk Kerkorian requested, as he did for all his showrooms in that era, that Dean Martin do the first performance. The theatre, however was built for the large production show Hello Hollywood, Hello and included details like a waterfall curtain, stage lift at center stage (still in place) and even props like a replica airplane that still sits backstage.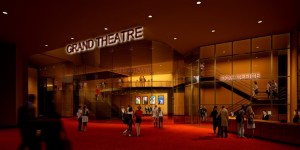 A few more fun facts:
The theatre is home to the World's Largest Indoor Stage.
One of Frank Sinatra's piano's sits backstage used by the legend during his performances in the theatre.
There is an impressive signature wall backstage where many acts from the last couple of decades have begun to leave their mark (signatures, drawings, etc.)
More than 800 acts have performed on that stage since 1978.
So there you have it, Dean Martin was the first to perform there back in 1978. As for Billy Idol being the first to stage there on the newly renovated Grand Sierra Ballroom, you might say he's the comparison to a Dean Martin of today, but instead of a suit and tie, he sports leather boots, black tight rocker pants and he's shirtless.  Oh! As far as Billy Idol's performance that night, well let's just say that if you were lucky enough to get into one of his sold out concerts you'll know why a full show review isn't really necessary here. It's Flippin' Billy Idol, baby!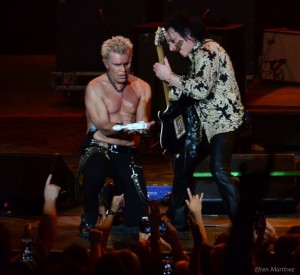 Visit The Grand Sierra Resort's link below for a list of other exceptional artists scheduled to perform there this year like Duran Duran along with resort specials & packages.
The Grand Sierra Resort Reno has been fully renovated over the years from your parents MGM days. I'd fully recommend it and especially the pool, gym, spa and all their fine cuisine they offer.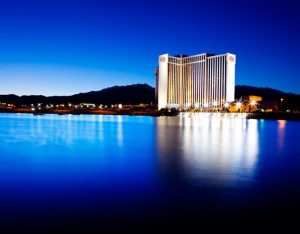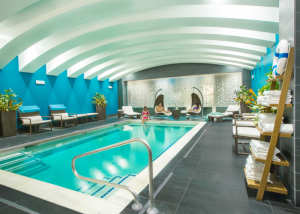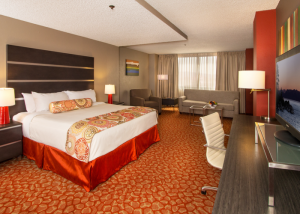 Comments
comments
I answered the call back in 1983; mixing Music and Entertainment with an eccentric European style has always come easy for me. In the early 80's I was the Disc Jockey for most of the high school dances in Modesto. In the late 80's I found myself in Hollywood working as a dancer and sound engineer for various professional recording industries. In 1990 my wife of 25 years and I started (The Quake Mobile DJ ®) which was seeded from San Francisco's 1985, The Quake, radio station that only lasted a short while on the air. 26 years later The Quake Mobile DJ is bigger & better than ever in the Entertainment industry. Real-Estate, photojournalism, event promoter, saving animals, travel and fitness are a few other of my interests. I also enjoy motivational speaking to children and to those who are struggling with addiction. In my life, I have always been a very direct person and once I see a goal I won't quit till I've achieved it. But out of all of the above I feel in my heart that the best inspiration in my life is my wife and my love for the faith that I practice. Phil 4:20