BrewView: Drink the Rainbow in 2017
By Christopher Mitchell and Brandilyn Brown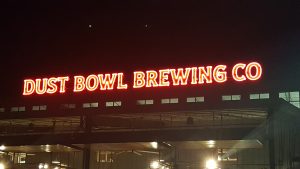 We are looking forward to some really cool stuff in 2017 in the libations department. Fuzio will soon be serving craft beer, Camp 4 has reopened, St. Stan's is likely to return, and there is rumor of Modesto's first meadery. Not to mention, Blaker Brewing in Turlock will open a tasting room in Ceres around July! While we anticipate these awesome events, we encourage you to get a flight of beer somewhere and taste the hoppy rainbow. Introduce your taste buds to new flavors and genres!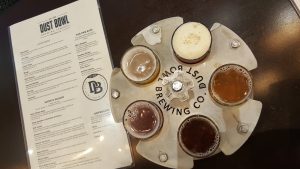 We decided to sip the world with a flight of beer from the new Dust Bowl in Turlock. We started in India with an India Pale Ale (Cherry IPA), visited Germany for a Gose (aptly named Gose), took a detour to a Mexican inspired Amber Lager (Taco Truck), and drove shore to shore of the US of A with an American Blonde Ale (Ginger Spice Blonde) and an American Barleywine (Brain Spear).
After many years of tasting beers, this trip finally resulted in Brandi finding an IPA she loves! This is quite an accomplishment. She encourages you if you are timid in the IPA department, to try their Cherry IPA. The Cherry gently tames the hops so they are not overpowering and adds quite a bit to the aroma with a hint of citrus from the hops. Very enjoyable!
The German Gose was an extremely light beer that tricks you with an incredible full-bodied flavor. This is drinkable all day every day. (Not that we recommend that of course!)
The Taco Truck Amber Lager…. thin, clean, yet lightly creamy and very gentle on the hops. This maltier upgrade from the Taco Truck Lager definitely reminded us of a Dos Equis Amber. Its low flavor profile makes it a great beer to pair with something spicy.
If you like ginger beer or Henry Weinhard's soda, you will also appreciate the take on the American Blonde Ale, the Ginger Spice Blonde. Creamy and light, with just a hint of spice in the nose, it's a pleasant sipper. Don't expect to chug this, it's for nursing. The bulk of this beer is in the aroma, so be sure to keep smelling it. It is divine!
Our favorite of the evening though was the Barleywine.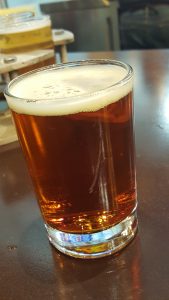 These are hard to come by in Central Cal, so go enjoy this while you can. It's fruity in the front and hoppy in the back! This goes down like a thick IPA, rich with malt, and sweet enough that your brain might confuse it for a stout, though it's certainly a traditional barleywine. The sweetness fades as it warms up, so this is another nurser if you want to savor all its layers.
With a full 20 taps, you can sample most of the world in one stop. Come out and enjoy a flight and some of the beer cheese soup (but dip some fries in it! Delicious!)  If you see us there, challenge us to a game of Jenga! We're not very good at it after a flight of beer but it's about having fun and not winning, right? Right??
Happy New Year and sip on, friends!
Dust Bowl Brewing Co.
3000 Fulkerth Road
Turlock, CA 95380
Dust Bowl Brewing Co. Downtown Taproom
200 W Main Street
Turlock, CA 95380
Comments
comments
Bring on the rain, and a bottle of Wonky & Wry's Honey Braggot Ale. Loves to roast marshmallows over a fire. Enjoys the mix of cigars and whiskey.