BrewView: Tis' the Season for Ales!
by Brandilyn Brown & Christopher Mitchell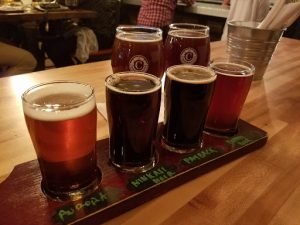 Here in sunny Central California, our winters are hardly rough. While some countries focus on Lagers this time of year, we tend to lean more towards Ales as our winter beer, because temperatures are mild and perfect for brewing (or drinking!) ales.
When we are looking for a good selection of ales with our food, we eat at Commonwealth. Our last visit there lead us on a delicious ale journey, from light and luscious to dark and decadent! While their taps change frequently, these were our favorites. Visit us on mdoestoview.com and tell us what your favorite ales are!
We drank a flight and several pints to taste the Ale rainbow.
Pale Ale
A traditional pale ale would be made with two row malt and the hop Cascade. The most famous would be Sierra Nevada's Pale Ale, which is not pictured because you can pretty much get that anywhere.
India Pale Ale
While not the biggest fan of hoppy brews, we can certainly appreciate a hoppy beer when in the mood, and this article would not be complete without a nod to the famous IPA. In the nineteenth century, beers from the Bow Brewery in England were exported to India, among them a pale ale which benefited exceptionally from the duration of the voyage due to high hop content preserving it over the months it took to take the journey. This beer was the first of a style of export ale that became known as India Pale Ale or IPA. We chose the Modern Times Aurora Rye IPA, named after the Aurora Borealis.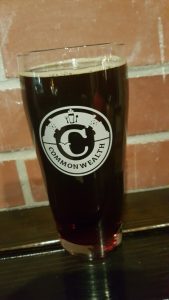 Brown ale
Brown ales tend to be lightly hopped, and often have a mildly flavored nutty taste. English brown ales first appeared in the early1900s, and the style became popular with North Americans in the early1980s. Try the Deschutes Jubel Ale or the Ninkasi Sleighr, both seasonal winter ales, if you couldn't tell by the names! (And not a typo-they really are spelled like that.)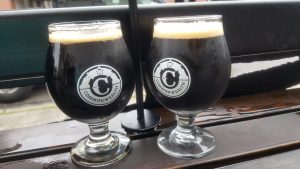 Scotch ale
While the full range of ales are produced in Scotland, the term "Scotch Ale" is used internationally to denote a malty, strong ale, amber-to-dark red in color because this particular ale is usually barrel aged in Scotch Whiskey barrels. The malt may be slightly caramelized to impart toffee notes; generally, Scottish beers tend to be rather sweeter, darker and less hoppy than English ones. You can't go wrong with a creamy, dreamy Devil's Canyon Full Boar Scotch Ale, which they often serve on nitro.
Honorable mentions, (also pictured too in the first photo!) are The Bruery's 9 Ladies Dancing, as well as the delicious Madonna and Child sour by The Lost Abbey, which is a lime and salt flavored ale, aged in tequila barrels. If you love sours, you'll like this take, and if you're new to sours, try it, because it's a great lead-in.
See you next time! Sip on, friends!
Commonwealth
1022 11th St
Modesto, California
Comments
comments
Bring on the rain, and a bottle of Wonky & Wry's Honey Braggot Ale. Loves to roast marshmallows over a fire. Enjoys the mix of cigars and whiskey.