Doing the Most Good-Salvation Army
By Chris Murphy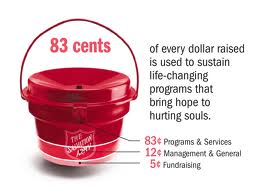 Do you have a hard time this time of year, deciding what charities to support and how you can make the most difference with each precious dollar?  I know I do and I want to help as much as possible, but I want my donation dollars to do the Most Good.  Salvation Army delivers and I trust them.  My family and business has supported the Salvation Army for years.  My band Third Party has raised money from our gigs for Salvation Army. As a Rotarian, we have prepared and served meals for Salvation Army and our kids as part of Interact have supported Salvation Army.  We all work hard and want our donations work hard.  You don't need to be religious to support the Army or use their services. It is for everyone in our community.  If you want to support families in need, this a great way to do it.   If you really want to feed people that are hungry and will "work for food", donate to the Army.  Meals are served 6 days a week to anyone in our community in need.  Here are a couple of facts.
The Salvation Army uses 83 cents of every dollar you donate to directly supportservices in 5,000 communities nationwide.
The red Christmas kettle debuted in San Francisco in 1891 in the guise of a crab pot.  A depression had thrown many out of work, including hundreds of seamen and longshoremen.
The Salvation Army assists more than 14.6 million people with basic social services each year, thousands are served here locally, every single day.
So drop your extra cash in a kettle, donate on-line, donate your stuff to the stores or donate your time to help.  Everyone can do something and this is the best way to reach the people truly in need.
Social Services is located at the Modesto Citadel Corps and can be reached at: 209.523.7577.
Volunteer and donate online at http://www.salvationarmymodesto.org/donations/volunteer
Comments
comments
Chris Murphy is the President and CEO of Sierra Pacific Warehouse Group and Publisher and Founder of ModestoView Inc. Chris worked globally in the cycling industry returning to Modesto in 1996. He is also the founder of the Modesto Historic Graffiti Cruise Route, Legends of the Cruise Walk of Fame, Modesto Rockin' Holiday, the Modesto Music History Organization and co-founder of the Modesto Area Music Association. Chris is married to his artist wife Rebecca since 1985 and has two daughters Madison and Abigail, both graduating from Modesto High and UC Berkeley. He is lead singer and guitarist for his band, Third Party that donates their performances to non-profits.