GreenView: 28th Annual Earth Day in the Park Festival
Saturday, April 22nd, 10am-4pm, FREE community event
Graceada Park, downtown Modesto, corners of Needham & Sycamore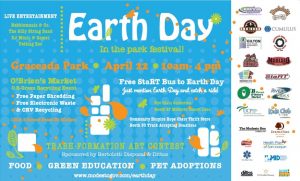 Earth Day is almost here and we are looking forward to sharing ideas on how we can Reduce-Reuse-Recycle-Compost at home, school and work. Residents all over Stanislaus County can take a FREE StaRT bus to the event just by mentioning Earth Day.  Please take advantage of this fun transportation alternative and at the same time help reduce our carbon footprint.
This unique event offers many opportunities to learn about the environment in a family-friendly atmosphere, as well as many community organizations will be on site highlighting the exceptional work their non-profits are doing. There will be over 100 exhibitors showcasing their products and detailing what they can offer to our community in order to make it a vibrant place to live, work and play. It's an entire day of "green education", unique entertainment performances, delicious food, kid's art and crafts, a Trash-Formation art contest, prizes and even a petting zoo! This year's entertainment includes interactive play by Bubblemania & Company, the Silly String Band, a petting zoo, and ongoing music and games by TNT Productions.
Be sure to attend the FREE O B-Green Recycling event held on Stoddard Avenue between Park and Sycamore Avenues. This is a convenient drive thru event where all proceeds from recyclables donated are applied to the City of Modesto "Adopt A Park" Program which is currently raising money for the Awesome Park. Items accepted for recycling include: On site document shredding (limit 5 file boxes or grocery bags per person), CRV bottles, cans, plastic & scrap Metal, E-Waste (TV's, computers, laptops, video games, electronics, etc.), Ink Jet, toners, cartridges, and household batteries and cell phones.
In addition, the Modesto Sunset Leo's Club will be collecting eyes glasses and making pet blankets for pet adoption programs in booth # 47.  The Hope Chest Thrift Store will be present with their donation truck collecting donations to support the Hospice Heart organization in booth # 30.
The City of Modesto is an ongoing supporter of Earth Day and believes it is important to have an event that brings the community together in a positive effort towards change in respect to our environment. Together we are working towards water and energy conservation efforts to preserve our natural resources. We are conscious of the importance of recycling and composting so we can see real movement towards the reduction in our landfill use statewide and ultimately great strides towards zero waste.
Comments
comments
ModestoView features contributors from our community on a regular basis. We enjoy and welcome these honorary ViewCrew members. If you would like to message them, email to info@modestoview.com