Hey Bartender
By guest writer Brandon Dodge
Owner Kimoto Sake & Sushi
Watching a bartender work can be mesmerizing.  It's like watching a conductor leading a symphony, but with booze. Ok, maybe more like a mad scientist, but if you really want to see some magic; and some of my fellow bartenders will probably hate me for saying this, but walk into your favorite bar and order a Bloody Mary. Why the Bloody Mary you ask? Because according to science, it's the world's most complex cocktail.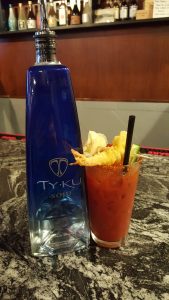 Dr. Neil C. Da Costa, an expert on the chemical analysis of flavors, recently said in his presentation at the American Chemical Society "from the standpoint of flavor chemistry, you've got a blend of hundreds of flavor compounds that act on the taste senses. It covers almost the entire range of human taste sensations — sweet, salty, sour and umami or savory — but not bitter."
While primarily being known as a breakfast or brunch appropriate alcoholic drink, Bloody Marys are the source of many other disputes. From the exact origin, whether it be Paris in the 1920s, or America in the 1930s, to how it got it's name, a reference to Queen Mary I of England, the actress Mary Pickford, or a waitress from a bar in Chicago. The biggest dispute seems to be what it takes to make a great one. Luckily I've been told I make a pretty good one and might be able to be of some service.
According to the IBA, International Bartenders Association, a Bloody Mary consists of: 3 parts vodka, 6 parts tomato juice, 1 part lemon juice,  2 to 3 dashes of Worcestershire sauce, Tabasco, celery salt and pepper.  In his report Dr. Da Costa tells us that chemically, the Bloody Mary is a "highly unstable" concoction, and the quality tends to deteriorate quickly. This means ditch the pre-mix and make it fresh!  By using the freshest ingredients such as a good quality tomato juice, the drink will retain its deep, rich flavors. Also according to the good doctor, because of those bold flavors, the vodka's flavor is often masked and choosing premium vodka doesn't matter.  Personally I like to infuse the actual vodka with a selection of handpicked spices or occasionally bacon as a secret ingredient for a traditional style Bloody Mary. However at Kimoto Sake and Sushi we use Japanese spices, fresh ginger and wasabi for a variation called the" Kasai". The possibilities are endless. Just remember whatever you do, make sure to use plenty of ice because serving Bloody Mary's on ice helps to slow down the chemical reactions involving acids in tomato juice and other ingredients that degrade the taste; and  that a brunch without booze, is just a sad, late breakfast.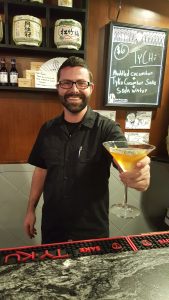 Comments
comments
Bring on the rain, and a bottle of Wonky & Wry's Honey Braggot Ale. Loves to roast marshmallows over a fire. Enjoys the mix of cigars and whiskey.