History from your backyard: Lovers Leap and Knights Ferry
By Lloyd G. Ploutz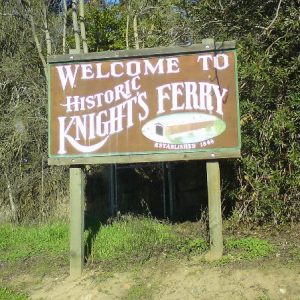 Going East from Modesto through Oakdale on Highway 108 toward Sonora, you will see "Lover's Leap" on the left side of the highway with an American flag implanted upon its top.  This is just before the Knights Ferry turnoff.  This location had many other names that were lost in the passage of time, but the name of "Lover's Leap" stayed.
The original road made its way along the north base of Lover's Leap between its base and the Stanislaus River.  Forgotten in time was the large Chinese community that lived there. They grew fruits and vegetables to sell to the residence and miners of the area.  "Ha Me" was a businessperson and a labor organizer for Chinese labor.  Chinese were paid 10 cents a day to make rock fences and work crops.  The Chinese were tenacious gold miners who followed other miners and recovered what they missed. The Great Flood of 1862 wiped out most of the settlement at Lover's Leap area. The Chinese then move up into Knights Ferry and re-established themselves.
Lover's Leap has been an important attraction.  From day one, pick-nicking, family gatherings, religious services, and parties were held there.  The views are great.  Contrary to popular belief, no Native Americans leap to their death from it that we know about. As you continue East from Lover's Leap on Highway 108 you will find Knights Ferry. From there, you have two options, one is to follow the road along side of the Road House down the hill to the Old Covered Bridge. This bridge is the second of two bridges built there. The first was washed away by the Great Flood of 1862.  This bridge is a must see and you should walk across it to the Old Flour mill on the North side.  This is the longest covered bridge West of the Mississippi River in existence today.
William Knight founded Knights Ferry in 1848.  He had been an early explorer with Major Charles Fremont. Times were rough and tough in these early towns, and unfortunately for Mr. Knight was killed in a gun fight and is said to be buried in front of the Masonic Hall under the asphalt, so drive over it with reverence.  Also at this location you will see the "River Inn".  Wow, what a great place to have dinner and a drink (or five). There are the fraternal lodges like the Masons, Odd Fellows along with the hotels, saloons, general stores, blacksmith shop, fire house, jail (which came from Modesto in 1870), park, Miller saloon/hotel, which is now an ice cream parlor. Explore the area and have fun!
Comments
comments
ModestoView features contributors from our community on a regular basis. We enjoy and welcome these honorary ViewCrew members. If you would like to message them, email to info@modestoview.com