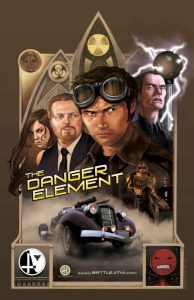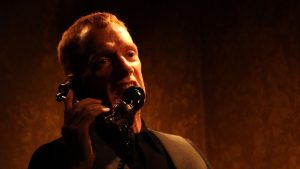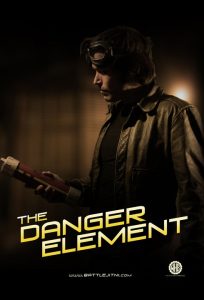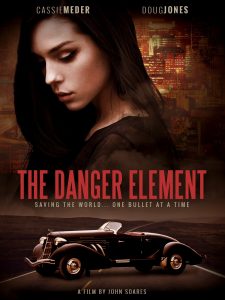 Sometimes things are often worth the wait, John Soares hopes that is true for his independently produced film. Close to ten years in the making and coming full circle; the action sci-fi thriller, The Danger Element will premiere at MJC, February 24th 7 pm. This is a FREE screening with a Q&A with the cast and crew including writer-director John Soares and Doug Jones(Hellboy, The Shape of Water, Fantastic Four Rise of the Silver Surfer). John was nice enough to answer a few questions.
John Soares is a writer, director originally from Hughson,  a working editor in the movie industry a member of the Motion Pictures Editors Guild, former Animatic Editor at Dreamworks and co-founder of Westhavenbrook Films. He also wrote, directed and co-stars in The Danger Element.
MV-Where did the idea of making the Danger Element come from?
JS-The Character of Jitni was something I created while I was a film student at Modesto Junior College. I wanted to create a character that was an action hero and could also be kind of a catch-all for every experimental idea that I had. The character evolved over the course of many experimental short films for years to come. When I was working with Doug TenNapel on Sockbaby, I got this notion that I should create something of my own to put out there into the world and that became this feature-length Jitni movie. I kind of dumped everything I loved into it, which obviously made it much harder to pull off. One day, my friend, Ben Beames, was talking about a possible idea for the plot is about some kind of subatomic particle or something. He said, "and then you could call it The Danger Element!" He was joking, I think, but I really loved that title.
MV-How long have you been working on the Danger Element?
JS-The first scene for Danger Element was filmed in 2007. We didn't work on it every day, of course, but principle photography continued off and on until the end of 2011. I spent a few more years in post-production, partially because other people also had a lot of work to do that I couldn't finish the film without. The music, certain special effects. Things like that delayed post-production quite a bit on top of the fact that I had to move to Tennessee for 3 years in the middle of it to work full time on a project for Dreamworks. I particularly recall a six month period toward the end where the entire film was locked and I would just come home from work at night and mess with the color grading on each shot until it was finished. It was a particularly isolating experience.
MV-The Film was shot in and around Modesto, what are some of the locations you filmed at?
JS-A few of the scenes were shot in the MJC film and television studio, in the same building where the screening is happening on February 24th. Most of the film was shot in Modesto and in areas around it. You might recognize some of the areas around downtown Modesto, alleys and the tops of parking garages, that street in front of Brendan Theater. We also shot at the Plea for Peace Center in Stockton, locations in San Francisco, Marin, Turlock, Hughson, Ceres. All of it is doubling for a place called Hughson, which is where I grew up. It's just outside of Modesto, but the city in the film is a greatly exaggerated Hughson, obviously.
MV-Most of the extras and much of the main cast are from the area, who might we recognize in the film?
JS-Justin Spurlock, Ben Beames and I are the brain trust of the project. We all met in film class at Modesto Junior College. Justin plays two characters in the movie. Joshua Krebs plays Billiard. I also met him in film class at MJC. Ben Page plays Mister Saltzman and also built several of the props in the film, he's another former MJC student. His dad, Wes Page, also has a small cameo in the film and was a responsible for a great deal of help behind the scenes. Adam Parker, who plays Andros, is an old friend of ours and a former MJC student. Mitch Miller appears all over this thing as different bit parts, Jason Amarillas, who came from a younger generation of students just before the arts programs shut down, volunteered himself to be punched and kicked as multiple anonymous bad guys. I don't know if I'm leaving anyone out, but it's quite a few people.
MV-How was it working with Doug Jones? Had he worked with you once before correct?
JS-I met Doug Jones and Guillermo Del Toro at a promotional event for Pan's Labyrinth at San Diego Comic-Con. Doug expressed genuine interest in what I was doing and we talked on the phone a few days later at which time he asked me to let him be a part of one of my projects. I was quite flattered and we've become close friends ever since. He's the kindest person in this business and incredibly generous with his time and ability. We worked together on Doug TenNapel's Sockbaby 4 for a couple of days before working on The Danger Element. He's a true professional. I think I only got him for a total of 8 days or something on The Danger Element and he didn't even meet a lot of the people he was acting against. I had stand-ins that he would say the lines to because just about all the principle cast had lines to because just about all the principle cast had wrapped a week earlier. It was absolutely freezing at the location. He never complained. I found this impressive considering he had just come off Hellboy 2 the first time I filmed with him and Rise of the Silver Surfer the second time. I figured the working conditions had to be a thousand times better on those films.
 I love Doug Jones, he's become one of my best friends.
MV-You wrote, directed and co-starred in the film, how does it feel to be a triple threat?  Do you think that performing so many roles was a factor in the movie taking so long to be completed? JS-I like having that level of involvement and it's definitely something I'd do again. It's having to do so many other jobs on the film that made it nearly impossible to do. I think if I ever do this again, there will have to be a lot more money involved and more people supporting me through it. Writing and directing is something I've always wanted to do. Starring in the film was mostly just a product of necessity. When you are dealing with so few resources, you have to hang your hat on as many sure things as possible. It was a sure thing that I would always be present on set, so it seemed like a sure thing that I should also be the actor who was on screen most of the time. Someone else might not be as reliable, which would be a disaster. On top of this, the film is full of martial art action. I had been studying martial art in cinema for years and had become a pretty decent performer and choreographer. Again, it was just simpler and more reliable to have me do all of those things. I've actually grown to like it quite a bit though and I'd definitely do it again under the right circumstances.
MV
–
What do you think will most surprise people who see this film?

JS-I always hope that the biggest surprise will be what is possible. The film was made with very little money and everyone worked full time while it was being made. I think a lot of people with big dreams assume that they cannot pursue them due to the same limitations we had. Don't get me wrong. It was very hard and I don't know that I'd ever do it the same way again, but it says something about what is possible.
MV-If you had to summarize the film in one sentence what would it be? JS-With the help of a government agent, a knight from a secret order formed in the wake of the Second Crusade joins forces with his estranged sister to take on the mob and a mad scientist in pursuit of the stolen Danger Element, which they believe has the power to bring their father back from the dead.
MV-Was there a particular event or time that you recognized that filmmaking was not just a hobby, but that it would be your life and your living?


JS-I was born in 1981, right in the middle of what I consider to be a historic revolution in entertainment, particularly cinema. My parents showed me movies at a very young age. I would say that by the time I was about 5 years old, I had already seen the films and television programs that have influenced me most all the way to the present day. I did not really understand what a movie was at that time, of course, which probably contributed to the magic of it. I was completely obsessed with them simply because they seemed to be a window into something amazing that I figured had really happened somewhere. As soon as I was able to begin to understand the nature of cinema, I became interested in doing it myself. As is the case with many filmmakers, I started out by making stop-motion movies with my toys and planned several larger productions that were too big for me to ever actually begin work on. It's always been a part of my life and I think I've always intended to make cinema regardless of what my profession ended up being. 
MV-What is the one mistake most filmmakers make, regardless of experience?
JS
-I've made and will make my share of mistakes. Mistakes are kind of what people are all about. But two things jump into my mind when I think about this question. For people who are actually making films, I think the thing that bugs me the most is that I don't see a lot of ambitious projects out there that really say anything personal. There are, of course, exceptions to this, but if a filmmaker ever had a reason to ask me for advice, I think I would tell them to make something that is unique to them. Something that no one else could make. Personal to them. What you end up seeing is a lot of vague moral concepts in big movies now, obviously so that they can safely appeal to large audiences. There often seems to be an expression in big adventure movies today of doing what is right at any cost, for instance, but there is little argument as to what actually is right. This is where I'd love to see cinema as a variety of personal expressions about what this concept means. Essentially, I'd love to see more films that are driven by true artists rather than financial strategy. This would mean that the entire economy of cinema would have to change, which I don't know how to do, or more artists would have to strike out on their own, perhaps making smaller films with more specific audiences.
The other thing that jumps into my mind is that I think there are a lot of people out there who feel a pull to make cinema, but they never do. They make excuses when, actually, if they really tried, there's a possibility that they could express themselves. I think this is the biggest mistake.
MV-When inspiration is waning. when you feel creatively sapped, what do you do? How do you stay fresh?
JS-The stuff I create usually comes from my own life. I spend a lot more time immersed in my own culture and Religious Traditions than I do creating things. For instance, it's pretty obvious if you watch The Danger Element that a lot of my inspiration comes from Catholic Tradition. This is something I am immersed in every day. It's at the center of my life and it tends to be a source of almost annoyingly constant inspiration for me. The Mass is an endless puzzle of inspiration that seems to unfold further every time I participate in it. The Tradition of the Church spans throughout the world and throughout history. It's impossible not to be inspired. Last year I went on a pilgrimage to Italy and roughly traced the route of Saint Paul from Sicily to Rome. I also visited Assisi and Florence. I touched the 2,000-year-old Sarcophagus of Saint Rufinus, Visited the tombs of Saint Andrew the Apostle, Saint Francis, Saint Clare, the relics of Saint Luke, the relic of the scourging pillar. I ascended the stairs of Pilate's palace, brought back to Rome by Saint Helena in 326 A.D. and saw the bones of Saint Peter the Apostle, first of the popes, beneath the main altar of Saint Peter's Basilica. The list of things I saw in Italy goes on and on and kind of reads like an adventure. It's not hard to see where a lot of the inspiration for my work comes from. I'm always reading about this sort of thing as well.
I find that watching movies, reading books and listening to music helps a lot too. You need to look at cinema in order to understand the craft of it, but you also need to look at other art forms so that your cinematic ideas do not stagnate within a closed system. I find that a lot of my ideas, even ideas for technical things or for shots or for lighting, can be jogged loose just by reading a descriptive passage in a novel or listening to a particular piece of music. Inspiration comes from unexpected places.
MV-Who are your inspirations?
JS
-Some of my inspirations in the cinema were solidified at a very early age and maybe sort of obvious.
Indiana Jones, Star Wars, the Mad Max series, Ghostbusters.
When I was about 10 years old, Terminator 2 came out and it was a benchmark film for me. It really made me want to do this for real and it's continued to be one of my driving creative influences.
Later, right around when I was graduating from Highschool, the Matrix came out. This really shifted my interests. I started watching a lot of Jet Li films after that and by the time I was working on SOCKBABY with Doug TenNapel a few years later, I actually had some experimental experience in the field of martial art choreography and performance under my belt. The entire Matrix franchise was a massive inspiration to me and had a lot to do with shaping the kind of stories I want to tell through the action and adventure genre.
Guillermo Del Toro is also a big influence on me and that's actually how I met Doug Jones.
In terms of story, my influences are boundless: Dante, Stephen King, the lives of all the Saints, the Arthur legend, the Traditions of the Catholic Church, the works of Mike Mignola… the list is really far too long. It gets even crazier when I start talking about the people who have nothing to do with art or writing or cinema in any way, but who have greatly influenced my work.
MV-Last Question. Beatles or Rolling Stones?
JS-Rolling Stones
Comments
comments
Middagh Goodwin LIVES Music. He has been booking and promoting Music, Art and Comedy for years in the Central Valley. He ran the award winning Plea for Peace Center in Stockton for 5 Years and has booked bands from A-Z. Middagh is beginning 2016 with a new position at the Gallo Center for the Arts and celebrating Beat Happy! Music's 30th Anniversary. Read the MAMAView every month and a the Needle Drop 52 Records 52 Weeks.