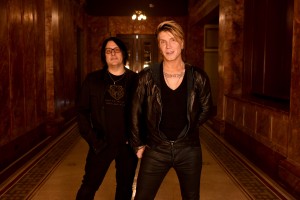 Ironstone Amphitheatre
Friday, July 15
Goo Goo Dolls
Collective Soul
Tribe Society
http://ironstoneamphitheatre.net/wired/
Tickets On Sale April 7th
February 22, 2016 — (Burbank, CA) — Multi-platinum, Grammy-nominated band Goo Goo Dolls will hit the road in July for an extensive summer headlining tour of amphitheaters and arenas. Also on the bill as direct support are Collective Soul and Tribe Society The tour come to Ironstone Amphitheatre on April 7th!
Goo Goo Dolls — made up of vocalist-guitarist John Rzeznik and bassist Robby Takac — will be touring in support of their new album, entitled Boxes, which is due for release from Warner Bros. Records this spring.
The Goo Goo Dolls are one of the most globally respected and influential forces in popular music, selling more than 10 million albums since 1986. They have scored 14 Top 10 radio hits (more than any other artist in the history of the Hot AC format), including "Name," "Slide," and "Iris," the latter spending nearly 12 straight months on the Billboard charts and holding the No. 1 position for 17 consecutive weeks. The band has toured the globe countless times, performed in front of millions of fans, received numerous awards (including four Grammy nominations), and recorded and released ten studio albums, including their latest, Magnetic, which debuted at No. 8 on the Billboard Top 200 chart and at No. 2 on the Top Rock Albums chart, propelled by singles "Rebel Beat" and "Come To Me." Rzeznik has also been honored with the Songwriters Hall of Fame Hal David Starlight Award.
Collective Soul was born during the rise of grunge and alternative rock, and broke into mainstream popularity when they rose to international fame in 1993 with the rock anthem "Shine." The multi-platinum quintet has been making music for two decades since then and has a catalog of #1 hits under their belts. Collective Soul helped shape and define alternative rock with lots of guitars and attitude.
Collective Soul's music has often been covered by well-known artists. In 2001, Dolly Parton won a Grammy Award for Best Country Vocal Performance with her cover version of "Shine". In further recognition of their artistic achievement, Collective Soul was inducted into The Georgia Music Hall of Fame in 2009. Additionally, as the principal songwriter for the group, Roland was individually inducted as a songwriter in 2014.
They have a new record out, See What You Started by Continuing.  Collective Soul continues to rock quite simply for the love of music. The band that helped sonically define alternative rock is more focused and energized than ever. And as Ed Roland puts it, fans can continue to expect "lots of guitars and a fun attitude from the southern gentlemen of rock and roll."
Tribe Society Formed in 2015 by the core members of Boston-based indie pop collective Gentlemen Hall, New York's Tribe Society cite an eclectic mix of influences, from hip-hop and psych-rock to icy electronica, industrial pop, and soaring, stadium-ready, '90s-inspired alternative rock. Comprising vocalist Gavin McDevitt, bassist/guitarist Rory Given, synth/keys player Bradford Alderman, drummer Phil Boucher, and synth/flute player Seth Hachen, the band came to be in early 2015, shortly after the dissolution of Gentlemen Hall. Based out of New York City and describing their emotionally charged, shape-shifting pop confections as "falling somewhere between MTV and LSD," Tribe Society wasted little time getting their name out, issuing a well-received cover of Yung Thug's underground hip-hop anthem "Stoner" via Island Records imprint Lokal Legend. Drawing comparisons to artists like Imagine Dragons, X Ambassadors, Awolnation, and even Peter Gabriel, the latter of whom is invoked on the group's dreamy ballad "Pain Told Love," which features a guest vocal from Canadian-born, Brooklyn-based electro-pop singer Kiesza, Tribe Society dropped a mixtape called Delirium Sonata in March before releasing their debut EP, Lucid Dreams, in June 2015. ~ James Christopher Monger
Comments
comments
Bring on the rain, and a bottle of Wonky & Wry's Honey Braggot Ale. Loves to roast marshmallows over a fire. Enjoys the mix of cigars and whiskey.