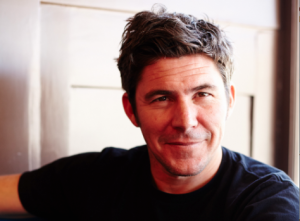 Joe Hargrave, Tacolicious owner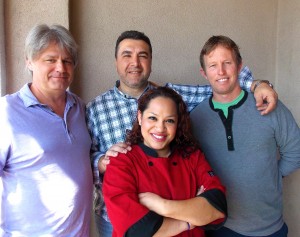 Paul Tremayne, owner of Concetta, Chef Gema Martinez of Redwood Café, Vito's owner, Ray Ashak, Blake Humble Co-owner of Commonwealth 
As of Today Modesto's premier chefs have joined forces to give Modesto what's it's missing – an enormous, delicious, gourmet outdoor dinner party on 15th Street. Chefs Joe Hargrave of Tacolicious, Gema Martinez of Redwood Café, Paul Tremayne of Concetta, Ray Ashak of Vito's, and Blake Humble of Commonwealth will be cooking their specialties in the first-ever outdoor downtown dinner. Modesto native and celebrated chef Joe Hargrave will be providing tapas from his Tacolicious menu, based on his four successful Bay Area restaurants. This spectacular celebration of fabulous food, fine wine, and live music will take place in the middle of 15th Street between J and K Streets, with the longest dinner table in town, measuring 150 feet long.
Guests will be serenaded with live jazz music by Ultra Lounge with special guest, Johnny Valdes. Ultra lounge Band incorporates genres of Jazz, Rhythm and Blue, Latin music to pop with interesting arrangements and improvisation techniques to create interest in live performance. The band rotates with different guest artists featured in the band. This time round will have Tim Allen bass and vocals, Dave Hawks on drums, and Johnny Valdes guitarist and vocalist. Johnny will be the special guest for the "One Table" United Way event. Johnny Valdes grew up playing rock guitar and covering Santana to Hendrix, over the years he's refined his playing and plays Jazz and popular music with effortless fluid lines and re-arrangements of popular tunes, as doing "Margaritaville", and "Body and Soul", with alternate chord changes and soloing styles to reinvigorate the music.
We are excited to be playing the "One Table" event in a nice outdoor setting on a summer day with great food, drink and music for a great cause, see you on the dance floor – Eric Benson, band member.
"While visiting Park City, Utah I came across their downtown dinner event with a single dining table up the middle of their Main Street, accommodating nearly 2,000 guests. I returned home to Modesto inspired to do something even better, especially since we're in the heart of the Central Valley with a local abundance of food, a beautiful downtown and amazing community" says David Darmstandler, One Table Chair and Co-Founder Datapath IT. "I'm hoping One Table gives us a chance to get together, enjoy great food and wine, while appreciating all that we have – while contributing to a great cause."
Guests will be served appetizers and champagne followed by fine dining, family-style, and music kicking off at 6:00 p.m. Only a limited number of lucky guests will have a chance to attend this one-of-a-kind event and reservations are required.
Event Details
6:oo p.m. – Prosecco Social & Hors D'Oeuvres
6:30 p.m. – Family Style Dinner
Outdoor, Family Style Fine Dining
Live Music by a phenomenal jazz quartet, Ultra Lounge with special guest, Johnny Valdes
Beer and wine included in ticket price
A portion of the ticket is tax deductible
Reservations Required
Please visit Onetablemodesto.com
One Table Menu
Prosecco and Passed Hors D'Oeuvres sponsored by Gallo Winery and Concetta, featuring Chef Paul Tremayne's famous deviled eggs and a variety of quesadillas cooked on site
A variety of family style tapas by Chef Joe Hargrave of Tacolicious. With four restaurants throughout the Bay Area, Joe has never forgotten his Modesto roots.
Mediterranean salad and fresh bread by Ray Ashak of Vito's
Chef Gema Martinez of Redwood Café will be dishing up the main entrée with pomegranate soy glazed short ribs, couscous salad, sautéed spinach, roasted peppers with almonds, topped with a lemon thyme and cilantro vinaigrette
Delicious, seasonal vegetable side dish by Commonwealth
Desserts will be an assortment of decadent caramel sea salt, raspberry and traditional brownies by pastry chef Kristi Kelley.
Sponsorship Opportunities
Dinner sponsorships start at $1,000 and include signage on event marketing, signage displays at the dinner, recognition on table menus, exposure in social media marketing, special feature in email newsletter and two admission tickets to One Table. Confirmed sponsors include Datapath IT, E & J Gallo Winery, Foster Farms, Don's Mobile Glass, Dot Foods, Valley First Credit Union, Delta Sierra Beverage, Mocse Credit Union, Oak Valley Community Bank and CAPAX –Giddings, Corby, Hynes, Inc.
To learn more about sponsorship opportunities please contact Amy Vickery at AVickery@uwaystan.org.
About the Beneficiary
United Way of Stanislaus County's Graduation Coach program is a strategic approach to raising the high school graduation rate in Stanislaus County by promoting student engagement, building a path to academic success and inspiring students. The United Way of Stanislaus County partners with local organizations that work to advance the common good by focusing on education, income and health.
Press Contacts:
Ali Cox
(209) 214-8686
Ali@alicox.com
Kulpreet Gill
(209) 505-4931
Kulpreet@alicox.com
Comments
comments
Bring on the rain, and a bottle of Wonky & Wry's Honey Braggot Ale. Loves to roast marshmallows over a fire. Enjoys the mix of cigars and whiskey.