Pig Out This St. Patrick's Day!
By Brandilyn Brown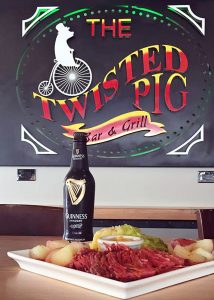 With a name like "Twisted Pig", you would expect pork on the menu every day of the year at this restaurant, and 364 days of the year you're right. But on St. Patrick's Day, Corned beef is front and center, ruling this roost.
Friday March 17th, come fill your bellies with corned beef tacos, Irish nachos topped with corned beef, corned beef and cabbage, and corn beef sliders, along with their regular menu offerings such as the delicious Rooster Bullets, the pretzels with beer cheese, Drunken Mussels or cups of bacon. Yes, CUPS FULL OF BACON. What's not to love?!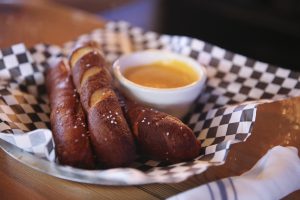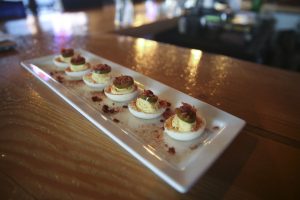 Their Third Annual St. Patrick's Day Party begins at 10am March 17th, and will go until 2am on the 18th. The free admission to this event gets you live music until nightfall when a DJ's mix will take over the dance floor. Musicians will include MAMA Winner Dan Vallerand and Thunder Road, among others. They will host tournaments in the game room with Twisted Pig swag as prizes. (Practice your beer pong tosses!)
They will host a pop up a photo booth (also free) so wear your green and dress up to pose all night! Budweiser girls will make an appearance, and if you're lucky enough, maybe they'll serve you your classic green beer.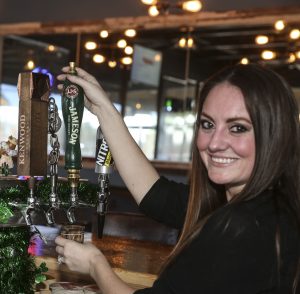 Owners Randy & Amber Rocha, alongside general manager Cody Baldwin, were inspired by their love of the Irish pub and the comradery that comes along with it, like supporting local and getting to know your neighbors. They wanted to tip their hat to their beloved Irish culture with this bar, and do so on a daily basis with drinks such as the Cocky Irishman, a cocktail created of course, with Jameson Irish Whiskey. They also offer Jameson on tap, a rare treat in Modesto. Jameson has been synonymous with Ireland since 1810, so make sure you sip an Ellis Island Martini when you stop in. This Jameson and pickle juice mix is incredible! If you want something  to warm your insides, try the Irish Coffee or a Coffee Break. (The Coffee Break is served with a fresh homemade donut rolled in sugary goodness!) Both are warm, smooth concoctions of creamy bliss.
You can make it at home, too! Try this recipe: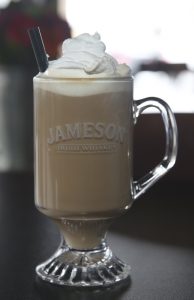 Irish Coffee
2 parts fresh Drip Coffee
1 part Jameson Irish Whiskey
1 part Emmet's Irish Cream
top with whipped cream
Drink responsibly (and pig out!) friends!
Twisted Pig Bar and Grill
2717 Coffee Road
Modesto, CA 95355
209-248-7243
Hours: Open Daily at 11am
Sun.-Wed. closes @10pm
Thurs.-Sat. closes @2am (Kitchen closes @11pm)
Twisted Happy Hour: M-F 3pm-6pm
Comments
comments
Bring on the rain, and a bottle of Wonky & Wry's Honey Braggot Ale. Loves to roast marshmallows over a fire. Enjoys the mix of cigars and whiskey.