Nick W. Blom Salida Regional Library to host fanfiction contest for teens
Local library to offer teens a chance to celebrate NanNoWriMo, with a twist
As writers from around the world celebrate National Novel Writing Month (NaNoWriMo) this November, the Nick W. Blom Salida Regional Library is encouraging local teens to take on a creative writing challenge of their own.
Beginning Thursday, Nov.1, ages 12 to 18 are invited to write works of fanfiction inspired by their favorite fandoms. Each work must be 10,000 words or less and submitted by Friday, Nov. 30.
"We want to encourage teens to share their stories and write!" said Jessica Geiss, children's librarian at the Salida Library. "Writing a whole novel in a month is a daunting task, but practicing your writing skills through fanfiction can be a great start."
Participants are asked to email their submissions to salida@stanlibrary.org. The email should include the participant's name, fandom, and contact phone number. Submissions are limited to one per person. The winner will be announced on Monday, Dec. 17.
The Salida Library is located at 4835 Sisk Road. For more information, please call the library supervisor, Wayne Philbrook, at 209-543-7353. Information on regularly occurring library programs can be found at www.stanislauslibrary.org, under the "Events and Classes" tab.
About the Stanislaus County Library
The Stanislaus County Library engages all members of the community and offers access to information, knowledge, and the tools for innovation and personal development. With 13 locations throughout the county, the Library offers a diverse collection of free materials, computer access and Wi-Fi, Story Times, programming for all ages, and more. To learn more about the Library's wide array of programs and services, visit www.stanislauslibrary.org.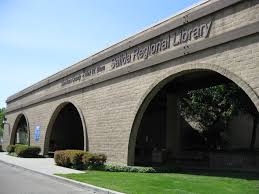 Comments
comments
Middagh Goodwin LIVES Music. He has been booking and promoting Music, Art and Comedy for years in the Central Valley. He ran the award winning Plea for Peace Center in Stockton for 5 Years and has booked bands from A-Z. Middagh is beginning 2016 with a new position at the Gallo Center for the Arts and celebrating Beat Happy! Music's 30th Anniversary. Read the MAMAView every month and a the Needle Drop 52 Records 52 Weeks.