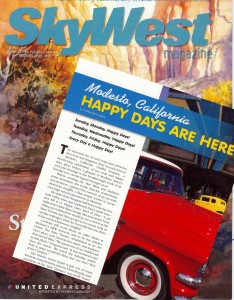 Sky West Magazine Loves Modesto. We at ModestoView have responded to the Forbes Magazine ranking with our own ranking. ModestoView has ranked Forbes Magazine as the #1 most miserable magazine, based on our statistical analysis of their lack of proper community in person research about the subjects that they write about. Forbes clearly has not taken the time to validate their research. We have also ranked the #1 awesome magazine, based on appreciation of the unique brand of Modesto.
But there are other magazines that do take the time to get to know the communities they serve. Sky West Magazine, the in-flight magazine that is read by over 2.5 million people is featuring Modesto, USA – Home of American Graffiti in their March / April edition. They took the time to check us out, research our history, see what we offer and were so excited about our Graffiti and community heritage that they wanted to tell the world about they city they serve through United Express. It is a great story and will be something that all Modestans and visitors can be proud of. You can read the comments of Carol Channing, Kate Nygaard, John Sanders, Jennifer Mullen and ModestoView's own Chris Murphy. You can find copies in the seat pocket in front of you or at the Modesto Convention and Visitor's Bureau. If you want to read it this very second, click here. http://issuu.com/janieb/docs/marchaprilswux_2011_web
SkyWest Magazine is placed on more than 1200 daily departures in 121 cities and 43 states and Canada. Wow. Thanks SkyWest for showing the real Modesto, USA.
Comments
comments
Chris Murphy is the President and CEO of Sierra Pacific Warehouse Group and Publisher and Founder of ModestoView Inc. Chris worked globally in the cycling industry returning to Modesto in 1996. He is also the founder of the Modesto Historic Graffiti Cruise Route, Legends of the Cruise Walk of Fame, Modesto Rockin' Holiday, the Modesto Music History Organization and co-founder of the Modesto Area Music Association. Chris is married to his artist wife Rebecca since 1985 and has two daughters Madison and Abigail, both graduating from Modesto High and UC Berkeley. He is lead singer and guitarist for his band, Third Party that donates their performances to non-profits.