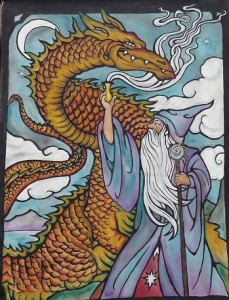 Ghouls, goblins, ghosts and…Steampunk airship captains? Yes! (Morvath McBrown at your service!) Everything Halloween, Samhain, Sci-Fi and Day of the Dead you can imagine is going on at the Sonora All Hallow's Faire this weekend. If you didn't have time to go today, no worries! The celebration continues tomorrow from 11am-6pm at the Sonora Fairgrounds. At the gate, Sunday Adult tickets are $15, and kids 6-12 years are $5.
Your first stop should be at the "swamp" to hear some awesome didgeridoo, and see some equally awesome belly dancing. If you're lucky, you might catch some belly dancers getting groovy with a snake! Unfortunately, the rain kept the dancers inside their tent most of the day, which is why I hope you will be more lucky than us. Sunday's forecast should be less rainy so your chances will be pretty good.
Your next stop should be to see Professor Algernon at the Zombie Stage. He's going to be there Sunday at 11:30am and again at 2:30pm. Scot Violette (AKA Professor Algernon), has been performing magic for 30 years. He became involved in the Steampunk movement many years ago and combined it with his love of illusion. This is a decent performance that feels like a throw-back to the 1890's mixed with modern day music. It's a great show for the kiddos. He makes it fun for adults too, so he can to get a chuckle out of everyone. He best tricks were cutting his assistant in half, putting something ripped apart back together, and moving something across the room.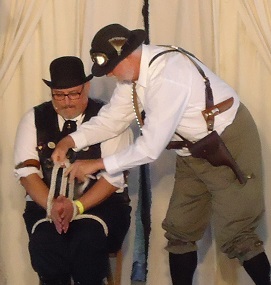 Professor Alergernon being tied up by volunteers for a trick
Stay after one of Professor Algernon's shows to see the local & talented Jeremiah the Juggler. This is another great one for kids! Dangerous, entertaining and funny; he can certainly get a crowd involved.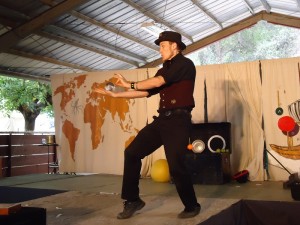 Jeremiah with his magic ball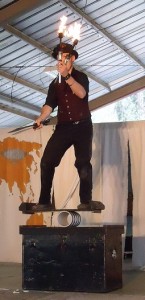 Jeremiah's best act: balancing while juggling fire and knives
If you love good music, hang out with a beer or a Redd's cider at the Black Oak Stage while Wicked Tinkers and Gator Nation take turns all day. The Sonora Celtic Faire Bagpipers made several appearances as well, playing Irish tunes, making everyone Irish or not, nostalgic for the little island. Erin go bragh!
On Sunday, the All Hallow's stage will host Galileo & Carpathia one show after the other every hour. Although we missed Galileo, Carpathian was another family-friendly show. The stories ranged from silly comic pieces to Grimm's tales, old legends, and campfire stories.
When you wrap up your storytelling time, head over to the Fae meadow to play with fairies, or to the Viking's grassy knoll for a quick history lesson, and maybe even stop by and meet the Fae Queen in her royal tent.
In between shows, food, beer and music, stroll along the midway to play games, buy neat stuff, and take pictures with strangers who happen to have awesome Halloween costumes. Before you leave, stop by the fire-breathing dragon and wickerman, so you can celebrate the Celtic New Year one more time: write your new year's resolution on a tiny scroll. A helpful volunteer will tie your scroll to some branches, so that it can burn with the wickerman after it is lit on fire, setting free our intentions as wisps of smoke up into the universe.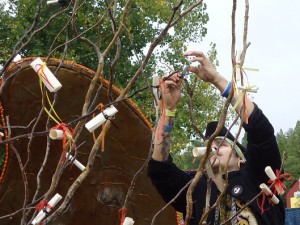 My scroll being tied onto a branch. I bet you wonder what my New Year's resolution is? No matter! What is YOURS?
Mother Lode Fairgrounds
220 Southgate Drive
Sonora, Ca 95370
Happy Halloween, Blessed Samhain, Happy Celtic New Year, and all that pumpkiny jazz!
Comments
comments
Bring on the rain, and a bottle of Wonky & Wry's Honey Braggot Ale. Loves to roast marshmallows over a fire. Enjoys the mix of cigars and whiskey.