St. Stan's New Pub Menu
by Christopher Mitchell and Brandilyn Brown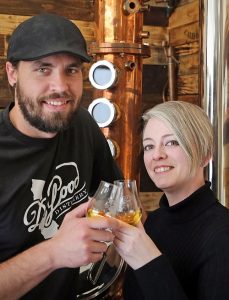 We know what it takes to make a memorable water hole: good beer, good service, and good food. That trifecta is complete at the St. Stan's taproom with their new pub food launch.
They've had brick oven pizzas since day 1, but along with their mouth-watering pizzas they now serve up calzones (try the Spicy Monkey, it's fantastic), gourmet sausages (individually or in a sharable sample platter), caprese salad, pizza-sized pretzels with beer cheese, and they even have dessert covered: churro donuts with house-made cinnamon whipped cream. Divine!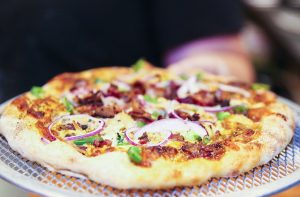 We guarantee you'll love pairing these new plates with their live music, Geeks Who Drink Thursdays and their Tournament Tuesdays. Tournament Tuesdays are a free-for-all. You show up with your buddies any time after 7pm and play a game you brought or pull one from the shelf. (Cards Against Humanity is a popular choice.) Prizes are awarded per table, and are various swag items and coupons for one penny pints. Geeks Who Drinks Thursdays are from 7pm to 9pm, and there are 8 rounds of the game in which to score points for your team. Prizes are awarded throughout the game like coupons for $3 off your tab.
Also new is their gluten-free cauliflower pizza crust which is super delicious! Vegan and vegetarian pizza options are available as well.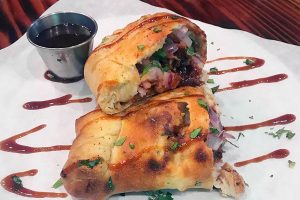 Coming soon is a beer club, where your rewards for loyalty will be cheaper pints, growler refills, and special VIP nights where you can try new beer before anyone else. Follow them on facebook to stay in the loop!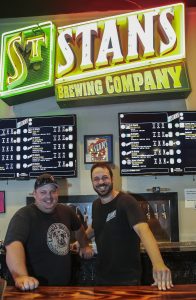 Stanislaus Brewing Co & St. Stan's Beer
1028 11th Street
Modesto, Ca 95354
209-284-0170
Comments
comments
Bring on the rain, and a bottle of Wonky & Wry's Honey Braggot Ale. Loves to roast marshmallows over a fire. Enjoys the mix of cigars and whiskey.