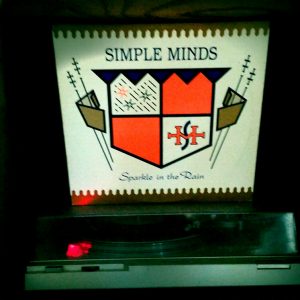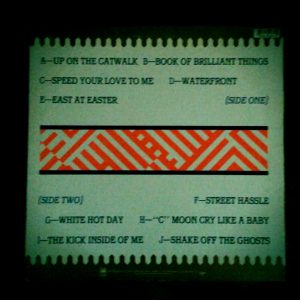 Weekend Needle Drop-52 Weeks 52 Albums
Simple Minds Sparkle in the Rain
I have been a big fan of this band for years and think just about everything they released borders on brilliance. I saw Simple Minds supporting Sparkle in the Rain, so I think it is the perfect album to reflect on. They were main support for the Pretenders in 1984 at the Oakwood Lake Resort and Water Slides in Manteca. Who else was at that concert.
My friend Noel and I went to the show and at one point were mistaken for members of the band, we both signed the same thing Chrissy Hines(Singer Guitarist for the Pretenders.) I wonder who those kids were or if they ever noticed.
Sparkle in the Rain saw Simple Minds going for a much bigger sound(a departure from the "New Wave" sound they were previously known for)which worked well  for the stadiums they would soon be headlining. They were at the forefront of the New Rock sound with bands like U2 and Big Country.
Two of my favorite tracks "Up on the Catwalk" and "Book of Brilliant Things" showcased the albums more intense sound. Big athemic songs that resonated beyond the grooves. Sing along with the chorus and you are caught in the mist of the world that Kerr creates.
The album was released and went directly to #1 and had 3 hit singles in the UK  "Waterfront", "Speed Your Love to Me" and "Up on the Cat Walk".
Pull out some of your old records and relive the memories.
Comments
comments
Middagh Goodwin LIVES Music. He has been booking and promoting Music, Art and Comedy for years in the Central Valley. He ran the award winning Plea for Peace Center in Stockton for 5 Years and has booked bands from A-Z. Middagh is beginning 2016 with a new position at the Gallo Center for the Arts and celebrating Beat Happy! Music's 30th Anniversary. Read the MAMAView every month and a the Needle Drop 52 Records 52 Weeks.