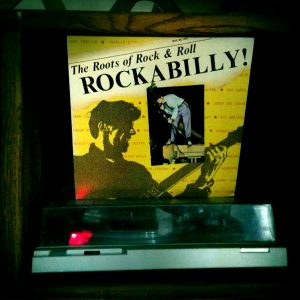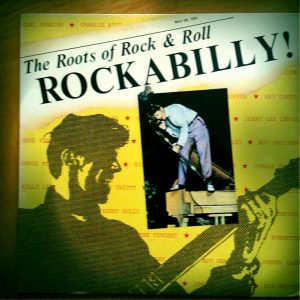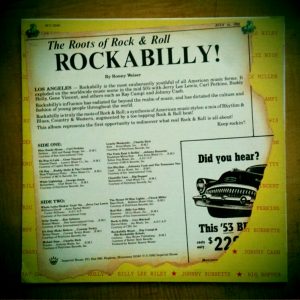 WEEKEND NEEDLE DROP-52 WEEKS 52 RECORDS
The Roots of Rock & Roll ROCKABILLY! Imperial House Records WU3590 Released 1982
It is Graffiti Summer in Modesto and so I thought I would listen to a music that owes a debt to it's origins right here in Modesto. Rockabilly and the sounds of the Maddox Brothers and Rose who influence can be heard on all the recordings on this particular release.
This is one of the first compilations I bought that helped give me a foundation in Rockabilly Music. Giving me an opportunity to rediscover what "real" Rock & Roll was all about.  It is 16 tracks of classic Rockabilly. The bands and the music that inspired the Stray Cats, Reverend Horton Heat, Koffin Kats adn  all the Neo Rockabilly and Psychobilly Bands.
Every song is a hit from the lead off track "Blue Suede Shoes" as performed by Carl Perkins to the  closing track on side Two "Rockabilly Music" by Ray Campi and His Rockabilly Rebels.  Blending a mix of Rhythm & Blues, Country & Western augmented with the toe tapping Rock Beat and the distinct sound of the Slap Bass.
I had heard many if not all on the oldies Rock stations, Roy Orbison,  Gene Vincent, Buddy Holly & the Crickets, Johnny Cash & the Teenage Two; along side with acts that would become Country legends George Jones, Charlie Rich and Conway Twitty. These songs past the test of time.
It is so much fun to see the classic cars crusin' Modesto while listening to the original sounds of Rock and Roll.
Middagh Goodwin LIVES Music. He has been booking and promoting Music, Art, and Comedy in the Central Valley for years. He ran the award-winning Plea for Peace Center in Stockton for 5 Years and has booked bands from A-Z. In addition, he is the managing editor of ModestoView and writes the MAMAView and GeekView. Middagh works with the Modesto Area Music Association and books Music in the Plaza. In addition, he owns and operates Graffiti-Con, where cars and pop culture intersects. More recently, Middagh has been working with the Graffiti USA Classic Car Museum, helping to create unique events that help raise funds and awareness of the museum and its mission. On top of that, you can tune into one of two shows that Middagh Goodwin hosts on KCBP 95.5 FM; This is SKA and MAMA Radio.