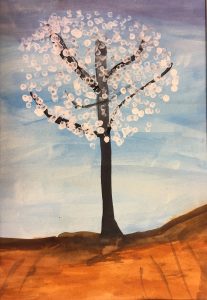 The Carnegie Arts Center announces the Fourth Annual
Youth Art Exhibition: Ready, Set, Show! June 1 – July 1, 2018
 Turlock, CA – A unique exhibition will be on view this summer at the Carnegie Arts Center in Downtown Turlock.  Youth in grades K-12 (ages 5-18) are invited to present their creative work to the public in the Carnegie's Ferrari Gallery, a museum-quality exhibition space. Entries will be received from Thursday, May 24 to Sunday, May 27, during Carnegie open hours (see below).
Entries are limited to a maximum of three per student.  Complete details are available on the Call for Entries page of the Carnegie's website (www.carnegieartsturlock.org)
"This will be our fourth exhibition of works by school-age artists. With the establishment of the Marian Ciriscioli Youth Arts Fund in 2015 we have the resources to make this exhibit a fun annual event," said Lisa McDermott, Director, Carnegie Arts Center. "We think it is important to do something that is encouraging to young artists in Turlock and the many surrounding communities."
In order to engage young artists, a hands-on station will be available in the gallery while the show is on view. McDermott adds, "When parents bring their kids in to see the exhibit they'll have the opportunity to make some art right then and there! When they see art made by other children their age, they may want to try it too, so we'll have some of the tools and materials in place for experimentation."
Featured Event:
 Ready, Set, Show! will have a free opening reception on Friday, June 1, from 7-8:30 p.m. as part of the Family Friday series, sponsored by Off Center Thrift & Gift. There will be refreshments and activities for everyone.
Gallery Hours & Admission:
The Carnegie Arts Center is located at 250 N. Broadway in Downtown Turlock
Open: Wednesday – Saturday from 10 a.m. – 5 p.m.; Friday from 10 a.m. – 8 p.m.; Sunday noon- 4 p.m.
Admission to this exhibition is $5 general; free for Carnegie members and children/students 18 and under.
 About the Carnegie Arts Center – Turlock
The historic Carnegie Library opened in 1916 and is now one of only a handful of art centers in the region. The Carnegie's programs include exhibitions, education classes and programs, lectures, and activities in artistic genres as diverse as dance, music, theater and more. At least 25% of all programming is dedicated to children and teens. The Carnegie Arts Center Foundation is a 501 (c)(3) non-profit organization and all donations are tax-deductible to the extent allowed by law.
Website: carnegieartsturlock.org, Facebook: Carnegie Arts Center of Turlock
Instagram: @carnegiearts
Twitter: @carnegieturlock
Comments
comments
ModestoView features contributors from our community on a regular basis. We enjoy and welcome these honorary ViewCrew members. If you would like to message them, email to info@modestoview.com