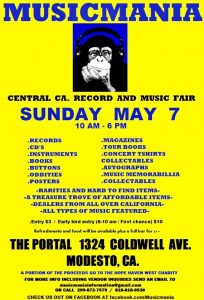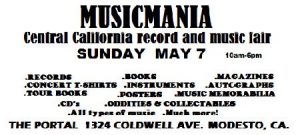 MUSICMANIA- the first in a series of events for music lovers in Central California, and one of the largest events of its kind on the West Coast. The event will take place at The Portal in Modesto on Sunday, May 7th from 10am to 6 pm. Attendees will be able to browse and pick up many music related items, meet other music lovers, and participate in the first of what will be a positive experience for the Central Valley. Over 5,000 square feet of items for music lovers.
This will be a great opportunity to grab some music related collectables at bargain prices. A treasure trove of affordable and hard to find items with prices starting at $1. There will be many different types of music collectibles including:
.RECORDS
.BOOKS
.MAGAZINES
.CONCERT T-SHIRTS
.INSTRUMENTS
.MUSIC MEMORABILIA
.TOUR BOOKS
.POSTERS
.AUTOGRAPHS
.CD's
.ODDITIES & COLLECTABLES
.MAGAZINES
.BUTTONS
.All types of music
.Much more!
A portion of the proceeds will go to Hope Haven West, who supply wheelchairs to those in need. Entry is $3 and there will be an early bird entry at 8am (2 hours before doors open to the general public) for $10, for those who want the first opportunity to buy anything. Food and refreshments will be available.
If you are interested in being a vendor at this event, contact us at 209-872-7579 or 818-818-0530. More information can be found on our Facebook page at facebook.com/Musicmania
Middagh Goodwin LIVES Music. He has been booking and promoting Music, Art and Comedy for years in the Central Valley. He ran the award winning Plea for Peace Center in Stockton for 5 Years and has booked bands from A-Z. Middagh is beginning 2016 with a new position at the Gallo Center for the Arts and celebrating Beat Happy! Music's 30th Anniversary. Read the MAMAView every month and a the Needle Drop 52 Records 52 Weeks.