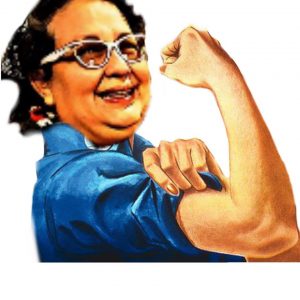 ComedyView
By Felicia Aleman
Hello, hello, hello. It's December already. I can't be the only one trying to figure out where the year went. It seems like summer just ended and threw us into winter. Did we even have fall? Who's the fat guy in red? We couldn't possibly be ready for holidays yet, right? Ick! Should I be shopping or something? And a resolution…Quick! I need an un-attainable goal so I can hate myself more than usual. I resolve to not wait to write stuff until the last minute…
Join me in saying hello to new Sacramento Friends. This column is now also being posted on the website SacComedyScene.com that serves the Sacramento area. Comics from the 209 have been a part of the Sacramento scene and vice versa so I am happy to make one more connection. I will also periodically create new material for SacComedyScene.com that relates to my experiences in the Sacramento area. Howdy, Sacramento! Hope to see you at a 209 show soon.
Speaking of shows here are a couple that needs highlighting
Thursday 13th at 7: Famiglia Bistro in Modesto comedy benefit for California Wildfire Victims. A.J. DeMello presents headliner Jason Resler (as seen on Comedy Central) and an amazing line-up of comics to raise funds for the Red Cross. Tickets can be purchased on EventBrite.com for $15 or $20 at the door.
Saturday 15th at 7: Alano Club Ceres Do Something Toy Drive, no cover with an unwrapped toy. Toy donations also accepted at Rasputin Records Modesto.
Upcoming shows? Here you go:
Tuesday 4th & 18th 7:30 Cheroot Cigar Lounge Modesto
Wednesday 5th 9 Pizza Factory Turlock. Headliner Ellis Rodriguez
Friday 7th 7:30 The Social Muse First Friday's Comedy at Cabana del Sol Manteca
Friday 7th 9 at Superfish Stockton with Marcelis Flores
Sunday, 9th  2 pm Tilted Turtle Live Wire mixtape release and comedy show headliner Jerry Law
Tuesday, 11th 8 Fired Up Grill Ceres. Open mic and comedy showcase
Thursday, 13th at 8:30 Goldrush Comedy at Winter's Tavern in Sonora #209comedy's Dysfunctional Xmas Bash
Friday 14th 8:30 Oakdale Sports Bar Badass Christmas Comedy Show
Wednesday 19th 8:30 Outpost Saloon Waterford
Thursday, 20th at Star Club Merced Comedy showcase Headliner Jason Sohm
31st Urbano Modesto Old School NYE Comedy Show and Dance. Headliner Insane Wayne
That's it for this month. Keep a lookout for this month's video interview with Marcus Peverill on ModestoView.com Happy holidays!
Comments
comments