NATIONAL AG SCIENCE CENTER 25TH ANNUAL AG HALL OF FAME
25 YEARS OF AG EXCELLENCE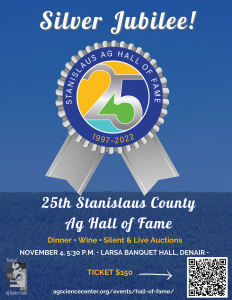 MODESTO, California; September 2022 — The nonprofit National Ag Science Center (NASC) is pleased to
announce the 25th annual Stanislaus County Ag Hall of Fame Gala. This year we will be honoring all 33 previous Hall of Fame inductees as part of our Silver Jubilee 25th anniversary celebration. "The National Ag Science Center is thrilled to recognize local businesses, individuals, and institutions who have continued to produce, market and support the agricultural community as well as pave the way and inspire the next generation of ag leaders," commented Interim Director, Kelsey Acuna.

The annual induction ceremony is a time where the community comes together to commemorate Stanislaus County's role as one of the nation's leading agriculture counties. The NASC is proud to host the annual Ag Hall of Fame fundraiser gala and this year's "Silver Jubilee" milestone anniversary welcomes a co-host in the Modesto Junior College Foundation. The MJC Foundation helps provide student scholarships, grants, instructional equipment, and professional development opportunities for MJC students, including those in the Ag Department. "As I transition from the National Ag Science Center to the MJC Foundation, I am and always will be entrenched in the agriculture that is such a dominant force in our community. I simply have new ways in which to engage with these wonderful people I have gotten to know over the past six years."
The Hall of Fame gala event welcomes upwards of 300 guests annually to award and acknowledge individuals, local businesses and families that have supported, contributed, and provided for our community and the agriculture of the world. Proceeds from the gala support the NASC's unique programs in agriculture and science that promote career awareness and the importance of issues in agriculture within the Central Valley.
NASC Board President Doug Van Diepen commented, "For the 25 th annual Ag Hall of Fame we are paying tribute to those who have made a remarkable impact within the ag industry. Our 33 previous Ag Hall of Fame honorees have continued to demonstrate their support for ag education, ag companies, ag families, and institutions within the ag community. We are honored to be recognizing the previous Hall of Fame inductees at this special Silver Anniversary Celebration for their outstanding efforts in agriculture."
This year's Ag Hall of Fame will be held on Friday, November 4, 2022, at Larsa Banquet Hall in Denair, CA.
Event details are available on the NASC website at www.agsciencecenter.org/sponsors/ To sign up for emails regarding this event, contact www.agsciencecenter.org. For more details on sponsorship opportunities or to make a gift, please contact Administrative Assistant, Kitiara Kaufman at admin@agsciencecenter.org
ModestoView features contributors from our community on a regular basis. We enjoy and welcome these honorary ViewCrew members. If you would like to message them, email to info@modestoview.com