Dying Breed Brewing: A Valley Oasis
By Brandilyn Brown & Christopher Mitchell
There isn't a perfect way to describe Dying Breed, because it is hard to describe a feeling. This place was a welcome break in all the best ways. Walking into the brewery and taproom, the welcoming atmosphere took us for a ride that we thoroughly enjoyed. It was 100 degrees when we visited, but the shade, the fans, the misters and the beer slushies kept you from knowing how hot it really was.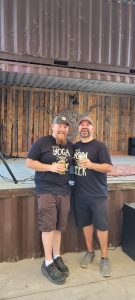 We were greeted by friendly staff and 20 taps (plus three beer slushie options!). We noticed storage containers that had been turned into temperature-controlled fridges and bathrooms, and plenty of tables under a giant canopy strung with twinkle lights. There are purse (or diaper bag) holders on the walls. But the showpiece of this space comes from the beautiful massive stage with a fantastically majestic Highland Cow sigil front-and-center. We had to know why a Highland Cow was chosen to represent a brewery in Oakdale, Ca. And now you too will know the answer because we had the honor to drink beers with two of the owners and delve into how Dying Breed will keep Oakdale and its traditions alive and well for generations.
Joe Novotny and Josh Malcolm co-own Dying Breed with fellow Oakdalian Dan Wood, and they brought on Colin Rosenburger as their brewmaster. What started as a dream to own a brewery in Arnold, CA turned topsy-turvy when the opportunity instead arose to build from the ground-up in Oakdale. With each owner using their different skill sets (marketing, accounting and construction) they turned a lonely little warehouse into a brewery, taproom and stage. They built Dying Breed as a place for the community to come together and simply enjoy each other's company using the three pillars of good ol' Oakdale tradition: excellent beer, excellent music, and excellent company. And they have succeeded in all three aspects as it's easy to tell within minutes of walking through their gate that you are welcome, you are appreciated and they are eager to serve you your new favorite beer and hear your stories.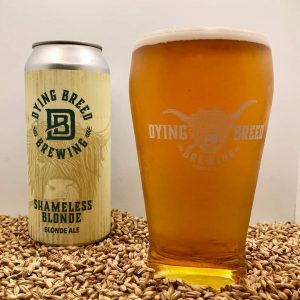 That's right, they are waiting to get to know *you*, their customer. They want to continue growing and melding Dying Breed to ensure it stays a safe meeting place to gather and commune, and they do that by listening to what you want and what makes you comfortable, and what will keep you coming back. So share your thoughts and stories over a 50/50 Creamsicle Sour, Shameless Blonde, Wild Berry Seltzer, Made in the IPA or an Old Ebenezer. They are all phenomenal beers, and you can't go wrong with anyone you choose. This is more than the idea of your local watering hole, it's also more than the idea of your office water cooler. It's the love child of both ideas, and this love child happens to look just like a Highland Cow. 
But we were supposed to tell you why they chose a Highland Cow! Well, because Oakdale was founded by the famous Francis Cottle and his herd of cattle in 1853 and sure maybe it wasn't a herd of Highland Cattle, but Highland Cows are the most adorable and friendly-looking cows around, so frankly, why NOT a Highland Cow? The funky playful Hairy Coo (as they are called in Scotland) represents the essence of who Dying Breed really is.
And what beer was it that got Joe and Josh into beer? For Joe, it was Pyramid's Apricot and for Josh, it was Mad River's Jamaican Red. 
After the interview, sitting back and enjoying the beer slushies, Brandi talks about watching a barn raising in an old western show growing up, possibly Bonanza or Gunsmoke. (Don't judge, we are well-rounded media Millennials and they are great shows!) Sitting under that massive shade, surrounded by walls lovingly made from pallets in an upcycling tribute, it truly feels as if we have witnessed a barn raising: this community came together to make this place a reality, and this amazing space they created is the aftermath of all that effort. Friends and family who hammered, painted, tore apart pallets, welded and sanded, made this gorgeous mecca in the heart of the valley. So come pay homage to them, and the dying breed of human they represent, with some friends, a cold beer, groovin' music and share some of your stories. 
For an events calendar, visit http://www.dyingbreedbrewing.com/db-events/. They have intimate musical performances on Thursday & Saturday nights, and if there's a cover charge, take pride in paying it because every penny goes to the band. Food trucks rotate every day of the week and feature some of the best trucks around like Food Fix, East Meats West, Big Vic's BBQ and Crepe Dog. On the 3rd Saturday of the month they host Yoga and Beer and on the 2nd Saturday of the month they host Cars and Coffee (a must-attend for all you American Graffiti and Faros' fans!)
Remember to drive safe and sip on, friends!
Dying Breed Brewing
963 Shepard Court, Suite B Oakdale, California 95361
Bring on the rain, and a bottle of Wonky & Wry's Honey Braggot Ale. Loves to roast marshmallows over a fire.