UnpluggedView: The Saint Valentine's Delay Mass Acher
by Aaron Rowan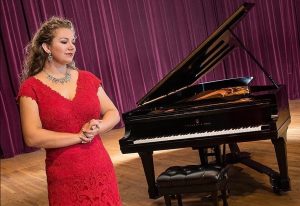 "Een nieuwe lente, een nieuw geluid," as they say in the Netherlands. A new spring, a new sound. After a two-month delay, Sunday Afternoons At CBS is hosting its annual Valentine Concert & Tea on April 3 at 3 PM. The torch has passed to Liisa Davila to headline this program of opera, Broadway selections, jazz standards, sing-alongs and other treats. I've been aching to enjoy this year's cabaret and I know a lot of people must be feeling it too. Liisa has performed for the masses in NYC, SF and LA, and serves as assistant conductor and chorus director for Opera Modesto. She'll be joined by her husband Mark and daughter Isabella in the program as well, along with collaborator Jordan Williams. This Valentine special is one of the sweetest events that CBS hosts, and that's even before all the baked goodies. Full afternoon tea will accompany the concert: scones, tea sandwiches, pastries, chocolates and a variety of teas. Tickets are available by calling the CBS office at 209 571-6060. More details at www.cbsmodesto.org/concert-series.
Live music continues this month at The Dragonfly Art For Life on J St. Keep checking the Modesto Unplugged website for added dates, but one wonderful evening will feature original songwriter Rebecca Hernandez. Her electric trio Beck & The Band crafts folk and pop-rock with a spiritual edge. Friday, April 8 at 7:30 pm, $10.
Saturday 4/16, Blues Hall of Famer Robert Cray performs songs from his latest record and four-decade career of blues, R&B, soul & roots music. He'll be at the State Theatre with his band starting at 8 PM. Cray's given us twenty studio albums and racked up five Grammy awards. Tickets run from $38 to $48, available at www.thestate.org.
Sunday, April 24 at 3 pm, Sunday Afternoons at CBS welcomes Americana band Grover Anderson & The Lampoliers. Grover was a prize-winning finalist in my own acoustic festival's songwriting contest some years ago. Songs of love, loss, and frontier mischief. $10-$25 for tickets. CBS concerts take place at Congregation Beth Shalom, 1705 Sherwood Ave.
To close out the month in style, Opera Modesto presents 'La Boheme,' considered Puccini's best opera and the most popular opera in the U.S., which inspired the hit musical 'Rent.' A classic romantic tragedy set in Paris, 'La Boheme' embraces the splendid and frenzied happiness of being young, and the fiery passion of young love. A group of young aspiring artists (The Bohemians) reach for their dreams, but their youthful optimism also has to come to grips with the harsh realities of life and survival. Two chances to enjoy this piece, April 29 & May 1 at the Gallo Center. Tickets start at $20.
Intimate performances. Infinite playlist. MODESTO UNPLUGGED. www.modestounplugged.com.