Unplugged View: The Fandom Of The Opera
by Aaron Rowan
Winter is my favorite season, and world music features some of my favorite sounds: the twang of Chinese string instruments; the haunting harmonies of Eastern European vocal music; the zesty high spirits of a traditional Italian folk song. On the first Sunday of this month, there'll be tastes and traces of all of this and a great deal more, when my annual multicultural concert collaboration with Opera Modesto returns. 'Around The World In 80 Minutes' premiered in the winter of 2019, and this is the third instalment of this vocal variety show featuring young & veteran opera singers sharing traditional songs of their heritage along with chosen favorites. As proud as I am of the range and caliber and prestige of live music I've presented over the years, I often feel put to shame by what Opera Modesto does under the creative leadership of Roy & Annalisa, whether it be a full staging of a classic opera or the smaller recital concerts they sprinkle throughout the year. Working with them has led to some of the most rewarding days of my tenure as a concert curator. This year's program features selections by classical composers; songs in Russian, Italian, Maori and other assorted languages; campfire tunes, Mariachi, and even some John Denver. As a special bonus, the concert also features the return to MU programming of central valley multi-instrumentalist David Perry Molina, who was a featured artist at my World Music Jam series a few years ago. We're back for the second time at the Prospect Theatre, 1214 K St., on December 4 starting at 2 PM. Tickets for this thrilling afternoon of song are $30 for general, $20 students, available at www.operamodesto.org.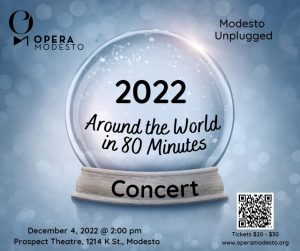 The night before, an opera of a different kind can be enjoyed at the State Theatre, when local music school GK Music presents its holiday rock opera spectacular 'The Spirit Of Christmas Eve.' Over 100 student musicians and their instructors comprising 20 different bands will be joined by live actors, a full choir, and visual effects to tell a story through the genres of rock, metal and jazz. It's a twist on the classic 'A Christmas Carol' story with some unique surprises. Among the youth bands involved is Portrait Of Elysia and They Catch Secrets, both winners at this year's MAMA Awards and previous features at my art gallery concert series. Saturday 12/3 at 7 pm. Tickets run from $10-$100, with the high-end VIP seating including a t-shirt and a DVD of the show. Find more details at www.thestate.org.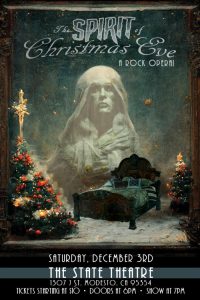 I'll continue live music at both the Dragonfly and the Jewel throughout the winter. Friday 12/9 at 7:30, the 'Friday Night Folk Flight' welcomes Koala & The Golden Boy, an acoustic indie-folk duo featuring Jordan & Jen Waters of local post-punk band Horizon Point. The Dragonfly Art For Life, 1210 J St., $10 at the door. And in the new year, you can look forward to a Turkish/Mediterranean music duo, some gorgeous Americana from Canada, solo harp & cello songwriters/vocalists and more in the intimate listening room spaces I love. Enjoy this winter wonderland of music and holiday cheer. Intimate performances. Infinite playlist. MODESTO UNPLUGGED. www.modestounplugged.com.