A Day in Columbia, Gold Mining Town 
By Brandilyn Brown
A short trip up the hill on Highway 49, near Sonora and Jamestown, you'll find the historical town of Columbia. You can get immersed in California's Gold Rush history in Columbia State Historic Park this summer and learn while having fun! In this family-friendly park, you can stroll along wooden sidewalks, ride an authentic stagecoach, pan for gold, chat with knowledgeable and friendly townspeople dressed in period attire and enjoy the restaurants or pack a picnic lunch. The small town is filled with historic buildings, a working blacksmith shop, an old-fashioned bowling alley, a theatre, and shops supplied with treats and trinkets. Be sure to visit the Candy Kitchen (my daughter's favorite stop) or swing by Kate's Bakery to bring pastries and other treats home to enjoy later. (Bag of scones, anyone?) We took a "respite" at Kate's Teahouse and had peach iced tea, scones, fruit salad and a chicken pot pie. It was THE BEST pot pie I've ever had the joy of eating. There are several general stores in case you find yourself needing a water bottle or jug of ginger ale or a present for an upcoming holiday.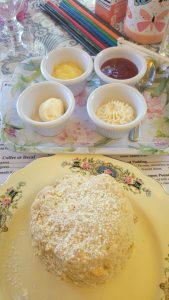 There are plenty of free things to do so you could make a special day with your family very cheap. Parking is free, and there are plenty of bathrooms throughout the town. While there are plenty of stores to snack and eat at, you are also welcome to pack a picnic lunch and eat under the big shady trees at the picnic tables which are sprinkled throughout the park. You can watch the stagecoach tromp through the city. Visit the blacksmith shop and candle shop to learn how to make horseshoes and bee's wax candles. Many of the buildings have been converted into museums, so there is plenty to see. (My favorite is the dentist's office. I can't believe they used to just YANK teeth out of your mouth with pliers!) Friendly docents walk around in character to share their knowledge with you. Be friendly to the chickens and peacocks who have made themselves a home here. If you're up for some exercise, walk all the way up Main Street to the cemetery and schoolhouse-it's worth the walk! The cemetery is sooo beautiful. They host flashlight tours of the cemetery on Halloween weekend, so be sure to check that out! If that sounds too spooky, you can take the "Stories in Stone" tour once a month on Sunday afternoon for $10. Check out their facebook page to see upcoming daytime tours.
Make an entire day of going up the hill by visiting Railtown at Jamestown either on your way up or your way down. Parking is free there too, and visiting the museums and trains is also free. The train from Back to the Future is there! Perhaps you may even visit Indigeny Reserve Cidery and take a few of their delicious alcoholic ciders home! 
For more information:
Bring on the rain, and a bottle of Wonky & Wry's Honey Braggot Ale. Loves to roast marshmallows over a fire.