Art View: Arts Alive
By Jim Christiansen
Graffiti Summer has been rescheduled until August. You can do the traditional cruise tour of the many murals downtown and up McHenry fun until the new car shows and parades return. Kruse Lucas Gallery will be celebrating the return of the Graffiti Parade and Car Show with art in June, July and August featuring artists Carolyn Huff, Rhett Regina Owings and Tony Pooler. Gallery located in the Kruse Lucas Automotive offices and showroom at 525 Tully Road across from MJC
Venues are opening in June. Mistlin Gallery will return to its regular hours Tuesday through Saturday this month. The new show this month is a collaboration with the Valley Suncatchers group of plein air painters and will feature pairings of plein air sketches and studio completed paintings.
Mistlin Gallery is hosting summer classes and art camps. June 6 is the date to complete registration with savings. Find a wide variety of offerings on the Central California Art Association/Mistlin Gallery Facebook page or at the website www.ccaagallery.org
June 14 is the Open Call to Artists deadline for the July " Domestics: Home is Art." This show is open to members and non-member artists through Smart Entry. The theme of the show will feature scenes and images found in and around the house. The show will feature a retrospective of artist Annette Van Laar-Molner.
Carnegie Arts Center in Turlock has an open call for their Carnegie Art Showcase exhibition. Another show open to members and non-member regional artists, the deadline for entry is June 6. That date also opens Carnegies Youth Art Show in Turlock. www.carnegieartsturlock.org
The Chartreuse Muse Art School and Gallery will Celebrate its Grand Re-Opening June 19 with an Opening Reception from 5 to 8 pm. Until then The Muse is still on Thursday, Friday and Saturday schedule and hosting classes. www.TheChartreuseMuse.com Dragonfly Art for Life on J Street open with classes. Dragonfly posts art tips on their Facebook page. Their collaboration of concert events in the gallery in collaboration with Modesto Unplugged Aaron Rowan has resumed. Seeking an Open Mic, check-in with Modesto Conservatory of Music, Art and Theater at 12th and E. Kaila Kindley has offered up hours for this weekly, and the MOCON studio has room for visual artists, recording and music and more in their creative space. Peer Recovery Art Project gallery on Tenth Street has shows and music offerings going on in the gallery and collaborating with other venues.
Anne Whitman is the featured artists this month at Barkin Dog Grill, open 10 am to 3 pm. Her watercolor and acrylic portraits will hang until the end of June. As for the answer to last month's question, will Third Thursday Art Walk return? The answer is still murky, but rumor has it a form of it may appear in July or August. The Stanislaus Artist Open Studio has yet to be confirmed but a poll of participating artists indicates this popular event will reappear in the middle of October. October 16 and 17 the likely Open Studio weekend. I have my home studio ready at last and may have some Open Studio days here on my Alley over the Summer. Support Local Artists. Buy their art.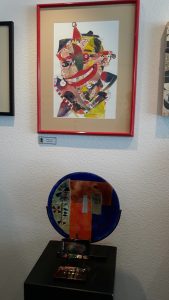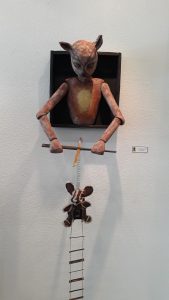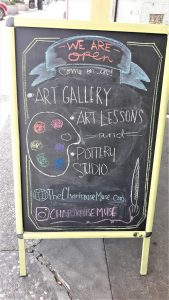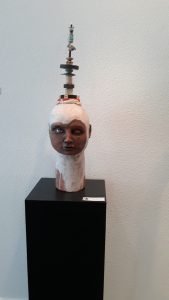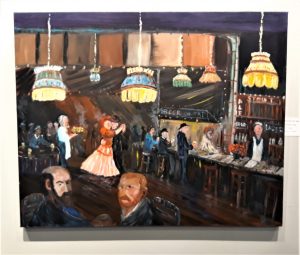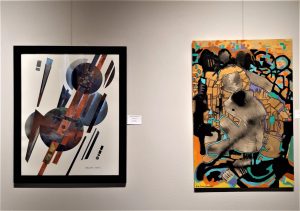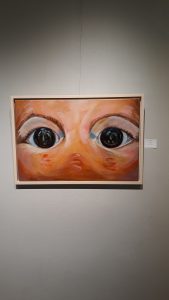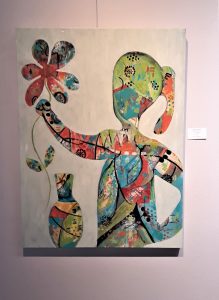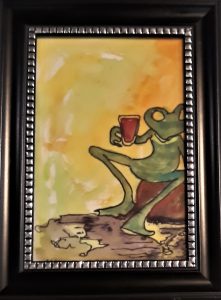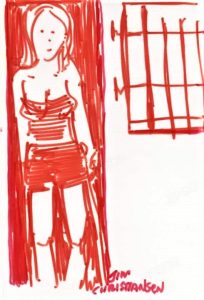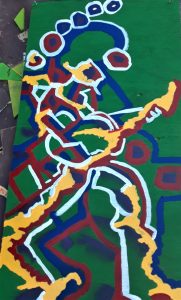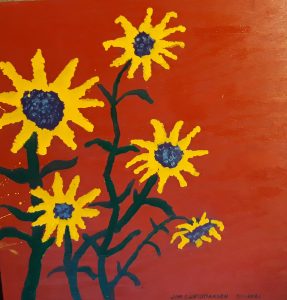 Jim Christiansen, award winning watercolor artist, cartoonist and member of many art groups moved to Modesto in 1977. Born in Riverside, California, and attended University of California, Riverside. Jim often shows around Modesto, does a poster or two, and has been host of the art walk events at State Theatre and Jax on H. Jim has been writing the art notes column several years for Modesto View.