ArtView: Window Shopping
By Jim Christiansen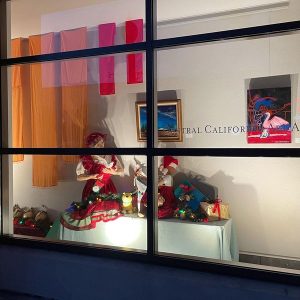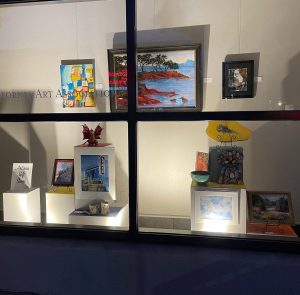 Window shopping and Holiday browsing for cards, gifts, jewelry, or something for your walls.  December is always a month when the artists, crafters, artisans come out.  Great time to peek in the windows, the smaller item displays, the card racks, at our local art block venues.  I had to stop and look at a piece at Crow Trading, where you can still follow up and call for an appointment.  
Chartreuse Muse has Christmas décor up, and selection of art bags and more.  Mistlin Gallery's Home for the Holidays show has two of my paintings in the windows, and many of the gift shop displays located out in the main gallery.  All for Sale.  If you see something you like in the windows or display cases, just ask the venue for price or more information.
Dragonfly Art for Life features Charlie Brown Christmas motif and suggests you buy an experience and join up as a member. $50 membership.  December 10, Dragonfly offers a paint and sing-along special event, $35 per person.  Gift Certificates are available at the venues if you can't decide just how you want to support local artists. Class sign-ups are ongoing.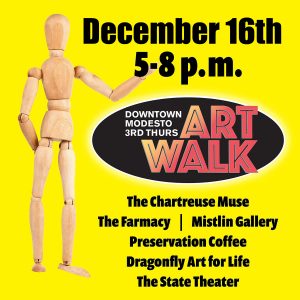 Third Thursday Art Walk falls conveniently on December 16, and the brave sidewalk artists will be out on the corner at Tresetti's.  The Farmacy, State Theatre, Café Deva all added to the current venues. Preservation Coffee has art up on the walls.  Mistlin Gallery featuring additional art vendors for Small Business Saturday and Art Walk night.  Daytime, you can visit Picasso's Art Gallery and Gourmet Deli and stop in for coffee or lunch.  Barkin Dog will feature artist Kristy Moore, open 10 am to 3.  Peer Recovery Art Project also open daytime hours Tuesday to Thursday for art activities and peer support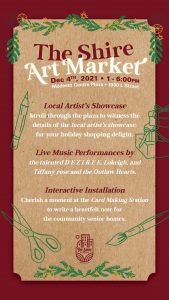 The Shire Arts Collective, is hosting an ArtMart on Saturday, December 4. 1 – 5:30 PM at the Modesto Centre Plaza to connect artists with holiday shoppers. Across from Tenth Street Plaza and near the outdoor Ice-skating venue Modesto on Ice. The Market will feature 3 live bands and a card-making station.
Lorraine Nilson, is the exhibiting artist for December, January and February Kruse Lucas Arts Gallery on Tully. Lorraine is known for her photography work. Originally working in black and white prints she traded in the darkroom for photoshop to expand her creativity. She enjoys landscape photography and her series "Nature Up Close" will be part of her exhibition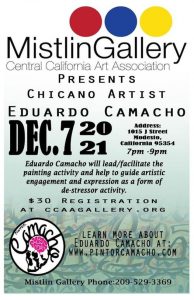 December 7, Central California Art Association will present Eduardo Camacho, Chicano artist will lead/facilitate a painting group and help lead/guide artistic engagement and expression as a de-stressor activity. Mistlin Gallery $30 Eduardo's web site www.pintercamacho.com
Looking ahead to the New Year, Stanislaus Artist Open Studio 2022 is scheduled for April 23 and 24.  Applications are due no later than January 15, and Early Bird Entries and consideration for Purchase Prize entry is December 15.  Open to artists across the county, just a $75 fee and completed entry form, or if you get in by December 15, $65.  For more information, email openstudio.stanislaus@gmail.com
In case you travel up to Stockton, "Frida Kahlo's Garden" is on exhibition at the Haggin Museum through January 9.  Iconic photographs of her garden, and reproductions of her paintings.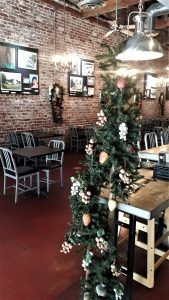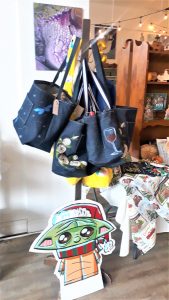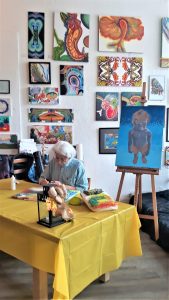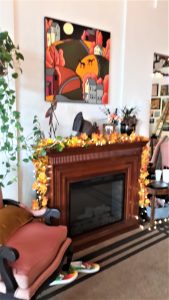 Jim Christiansen, award winning watercolor artist, cartoonist and member of many art groups moved to Modesto in 1977. Born in Riverside, California, and attended University of California, Riverside. Jim often shows around Modesto, does a poster or two, and has been host of the art walk events at State Theatre and Jax on H. Jim has been writing the art notes column several years for Modesto View.