Jazz-Blues View: Autumn Blues and Jazzy Nights
By Eric Benson

Ah, fall is upon us us and sweet September song has rung in a cooler season. I am no longer sweating in places I didn't know I had places! The summer garden winding down and rust settling in on the vines but now is the time to plant fall crops and get ready for spring. Plenty to do with music and the arts in downtown.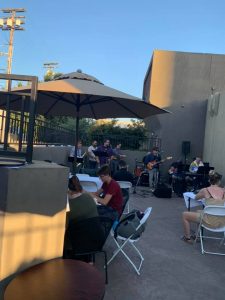 Blue Monday continues to twice a month on the second and fourth Mondays and I hope to do more in the near future. The House Band featuring Andrew Rosenblum guitar, sax, John Burt sax, John Ady and Conrad Johnson Bass, and Dave Hawkes and Cortez Flores on Drums continue to amaze me and make it happen.  Café Urbano has a full bar and food available in a nice club environment from 7 to 10 PM. Urbano also has DJ dancing Tuesday through Sunday featuring Latin Based music.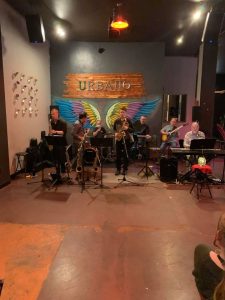 A new note-worthy venue in Merced is Vinhos Wine and Tapas bar, with food, and an expansive wine list with live music on the weekends. The music is Jazz, Blues and popular music.

Some great shows at Gallo Center but also check out some great venues out of town:  Yoshi's Oakland's best jazz shows, Kuumbwa Music Center Santa Cruz and Piedmont Piano company and the Sound Room located in Oakland.

We are on the rebound from the global pandemic post-apocalyptic party so be a good human and get your soul vaccination at the vaccination station and stay boosted. Until our paths cross again peace out! And remember as Herb Caen said if you don't like the news go out and make some of your own!
Middagh Goodwin LIVES Music. He has been booking and promoting Music, Art, and Comedy in the Central Valley for years. He ran the award-winning Plea for Peace Center in Stockton for 5 Years and has booked bands from A-Z. In addition, he is the managing editor of ModestoView and writes the MAMAView and GeekView. Middagh works with the Modesto Area Music Association and books Music in the Plaza. In addition, he owns and operates Graffiti-Con, where cars and pop culture intersects. More recently, Middagh has been working with the Graffiti USA Classic Car Museum, helping to create unique events that help raise funds and awareness of the museum and its mission. On top of that, you can tune into one of two shows that Middagh Goodwin hosts on KCBP 95.5 FM; This is SKA and MAMA Radio.