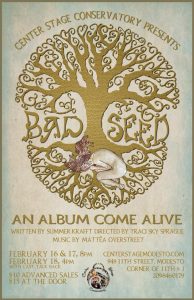 "BAD SEED: An Album Come Alive"
Music by Mattea Overstreet
Written by Summer Krafft
Directed by Traci Sprague
A passion project for all involved, this ONE WEEKEND ONLY event started with Mattea's debut EP, BAD SEED, released in June of 2017, which sparked a narrative for her long-time friend and collaborator, Summer Krafft. She wrote a fictionalized narrative of Mattea's life, falling out of a relationship and into another while trying to maintain other relationships, her dedication to her music, and her strong sense of self. In this collision of music and theater, Mattea and band will be playing live back and forth in dialogue with the scenes, which combined, will tell this story together.
The cast will feature Sara Garcia as Sage, Trey Augustus as Trevor, Daniel Medina as Damian, and Luis Maya as Kody.
This is a mature event which features adult language, themes, and brief nudity.
Tickets are $10 dollar advance sale on our website or $15 dollar cash at the door. Though, get yours fast! We anticipate this event to sell out.
All three performances will include an opening set from Anna Rogers, another local singer-songwriter and collaborator of Mattea's, as well as the full production, but Sunday's 4:00 show will feature a bonus talkback from the cast and creative team!
Check out Tea' Music Video for Bad Seed
Comments
comments
ModestoView features contributors from our community on a regular basis. We enjoy and welcome these honorary ViewCrew members. If you would like to message them, email to info@modestoview.com