Beyer High School Teacher Receives 2020 Yale Educator Award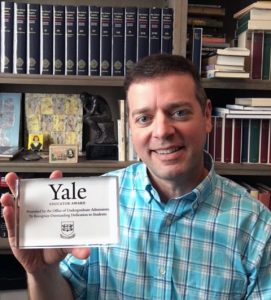 Steve Eitelgeorge one of 81 teachers and counselors recognized from around the world
 Modesto, CA – Fred C. Beyer High School teacher Steve Eitelgeorge is the recipient of the 2020 Yale Educator Award. Mr. Eitelgeorge, who teaches English, is one of 81 teachers and counselors from around the world being recognized with the honor.
The Yale Educator Recognition Program honors educators from around the world who support and inspire their students to achieve at high levels. Yale invites matriculating students to nominate a high school educator for the award. This year, 317 nominees represented 41 states and 19 countries.
Beyer graduate and new Yale student, Jack Litke, nominated Mr. Eitelgeorge for the award. "Each morning, walking into his classroom was like entering a completely different world," Litke shared. "There, at the head of the classroom Mr. Eitelgeorge would sit, with a coffee in hand, quietly discussing the readings. His soft voice would command the entire room's attention (which is certainly no easy feat), for everything he said conveyed his intelligence and, especially concerning the vicissitudes of life, wisdom. He opened our minds: with his help, we read more critically, read more broadly, and read more thoughtfully."
Beyer Principal Dan Park said, "Mr. Eitelgeorge is committed to the craft of teaching and being an educator.  He has a passion for his students to love and appreciate the English language and literature of all cultures. He's a professional teacher with a passion for student success and growth."
Earlier this month, Mr. Eitelgeorge received an engraved desk set and a congratulatory letter from Yale. The Modesto City Schools Board of Education and Superintendent will recognize Mr. Eitelgeorge at the September 28 Board of Education meeting, held virtually, beginning at 6 p.m. Meetings are accessible at the following link:  http://bit.ly/MCS-BoardMeetings  
About Modesto City Schools
Modesto City Schools serves the community with a variety of programs for ages two months to adult. Composed of an elementary district (K-8) and a high school district (9-12) with a common Board of Education and administration, seven other school districts feed into Modesto City Schools at the high school level. Current enrollment is approximately 30,000. Students are served in 22 elementary schools (K-6), four junior high schools (7-8), and seven comprehensive high schools (9-12). For more information, visit www.mcs4kids.com.
Comments
comments
ModestoView features contributors from our community on a regular basis. We enjoy and welcome these honorary ViewCrew members. If you would like to message them, email to info@modestoview.com