Unplugged View: Bird Fever
by Aaron Rowan
Reports are in of a new bug circulating around Modesto as the new year begins: CORVID-23, more commonly known as "bird fever." Not to be confused with the dreaded bird flu…..or that other thing…..CORVID-23 is a social contagion characterized by an irresistible craving for fresh and unique live music events, specifically those involving the Corvidae family of birds which includes crows and ravens. The telltale symptom of bird fever is a flareup of moderate to severe FOMO (fear of missing out). If you are experiencing the telltale symptom of bird fever, treatment centers will be in operation at the following locations and dates.
The State Theater, January 13-15. The Modesto PoeCon, the latest weekend spectacular from Opera Modesto's 'Story Into Song' literacy initiative, will offer a series of lectures on the life and legacy of Edgar Allan Poe, with the icing on the cake being two short operas based on Poe's works: 'Tell Tale Heart' composed by Stewart Copeland, the drummer for The Police; and 'Annabel,' based on classic Poe poem 'Annabel Lee.' The official start to the festivities takes place Friday the 13th, at the Poe's Pub fundraiser. A $50 advance ticket gets you an evening of costumes, buffet offerings & craft cocktails inspired by Poe's work, a performance by MJC's concert choir, and a screening of the '60s film adaptation of 'The Raven.' Read all the details on this merrily macabre weekend at www.modestopoecon.com.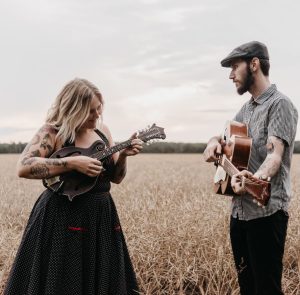 A booster shot may be required a few weeks later, and Modesto Unplugged has the perfectly calibrated dosage. February 3 at The Dragonfly Art For Life, supremely beautiful Americana duo Two Crows For Comfort make a stop from Canada, spinning stories into songs and songs into stories. They're the 2-time winners of Roots Artist of the Year at the Manitoba Country Music Awards and have opened shows for Ani DiFranco, Pokey LaFarge, and other greats. This concert has been on the docket for nearly a year now, and there aren't too many acts these days that I get this excited about hosting. Doors open at 7 and the duo gets going at 7:30, $10 admission for this very special Friday Night Folk Flight showcase.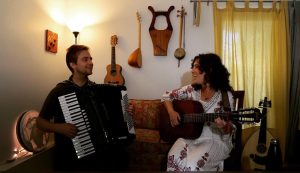 One more terrific Dragonfly concert coming up fast is the premiere of my after-hours Songlines concert series at the gallery, which will feature sporadic evenings of world music. Wednesday, Jan 4., I'm featuring Bay-based duo Nakarat, with a vibrant, emotional melange of folk songs in Turkish, Ladino, Greek, Griko, and Italian. They're a Mediterranean breeze with spicy nomadic tunes from the region. Find the Dragonfly at 1210 J St. 7:30 pm showtime, $20 cash at the door for this hot new series. RSVP for seats at 209-543-5306. Intimate performances. Infinite playlist. MODESTO UNPLUGGED. www.modestounplugged.com.