Black Family Day has been cancelled due to the increase in positive cases of Covid 19 in Stanislaus County. 
BLACK FAMILY DAY CULTURE AND MUSIC FESTIVAL OFFERS COVID-19 VACCINES
The Modesto/Stanislaus NAACP is sponsoring a Black Family Day Culture & Music Festival on Saturday,
September 11, 2021 at Graceada Park, 401 Needham St., Modesto, CA from 11am – 5pm.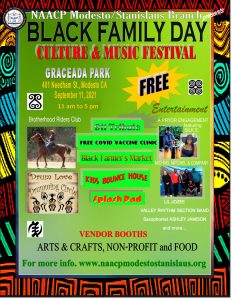 The celebration will begin with a 911 tribute and special remarks from Mayor Sue Zwahlen. Entertainment
performances will include saxophonist Ashley Jamison, Michael Mitchell & Company Band, Lill Jozee, Valley
Rhythm Section Band, Johnathan Pryor Engagement featuring Silk E., spoken word, praise dancers, and more.
The outdoor event will include a Black Farmers Market and a learning circle from the Brotherhood Riders
Cowboys & Cowgirls Club. Drum Love will facilitate adult and youth drumming circles throughout the day.
Drums will be provided, however, feel free to bring your own if you like. The Modesto Police Department will
provide a Bounce House for children as well as a job recruitment booth seeking minorities interested in
becoming police officers. Bring swimwear for your kids and watch them enjoy the City of Modesto's Splash Pad as we near the end of a hot summer. There will be food, merchandise, and information vendors for you to
support small businesses.

The Stanislaus County Health Services Agency will be available to provide free Covid-19 vaccines on site.
Medical personnel will also be available to answer questions about the vaccine, Covid-19, the Delta Variant, as
well as mental health services. Free masks will be available.

Learn more about rental assistance, workforce development programs, veteran affairs, college enrollment and
other community resources. The Black Family Day celebration is free and open to the public.

BLACK FAMILY DAY, also known as Black Family Reunion is a family-friendly event that focuses on the historic strengths and values of the Black Family. Founded in 1989 in Cincinnati, Ohio by civil rights pioneer Dorothy Heights, the event brings together family, friends and community to honor tradition, spirituality, culture and history.
ModestoView features contributors from our community on a regular basis. We enjoy and welcome these honorary ViewCrew members. If you would like to message them, email to info@modestoview.com