BluesView: an Interview with Ava Grace
By Earl Matthews
Hello everyone. June 15th at the State Theater. Headliners Tommy Castro and the Painkillers with guest Ron Thompson. Both bands are SF legends and should not be missed. There is a lot more happening so please go to the main calendar for details.
This month I've interviewed Ava Grace Merchant. Ava Grace is a 16-year-old sophomore at Oakdale High. We have recently begun to play together in the group Gravel and Grace.
Earl: What is your story?
Ava Grace: I play piano and sing, mostly around Modesto either independently or with some talented musicians who devote their life to the craft. I grew up in choir and theater, wanting to be a performer but never having the guts to pursue it outside of school events. I've been doing gigs for about a year and it's made me feel so much more well-rounded and accomplished, as well as giving me an outlet to express my music.
E: What is your passion?
AG: I want to make people feel something. Regardless of whether I'm the writer of a song I'm performing or if it's a cover, each song is a story not just of an event but of an entire person's life and values leading up to and through it…they're all pieces of the person who wrote it and they all have a purpose. My passion is helping people understand that purpose and really get lost in the music.
E: What is your greatest project or accomplishment?
AG: I've been gifted so many opportunities…I think it might be my trip last November to Muscle Shoals Alabama, where I was invited to record at FAME Studios. I could feel the presence of all the insanely talented artists that had recorded there before myself. I got to meet Dan Penn, who wrote some of my favorite songs by some of my favorite artists like Janis Joplin and Aretha Franklin and have him take the time out of his day to listen to my music and give me some advice.
E: What's next?
AG: My newest project is Gravel & Grace, featuring myself, Earl Matthews, Ray Vazira, Isaac Lewis, Josh Broom and Richard Cheney. It's really exciting and I can't wait to get out there and share our sound.
Follow Ava Grace on facebook to keep up on where she is performing facebook.com/AvaGraceMusicCA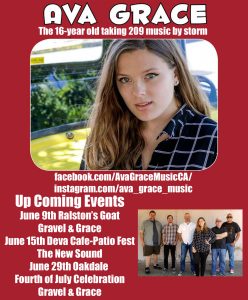 About the Author: BigEarl